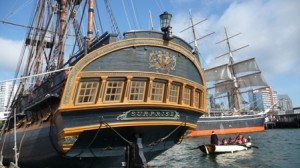 The crew has been scraping the barnacles off our keel and holystoning our decks like there was no tomorrow getting ready for this day. Open House! Everything that was stowed has been unpacked. Everything that was over at Blogger is now here, just in a different way. Come aboard and let me show you around.
First, lets admire that fantastic banner that Carravagio allowed me to use. As a convert, I love the story of Jesus and the disciples he encountered on the road to Emmaus after the resurrection. The "stranger" was going to keep walking, but these fellows convinced him to have some supper,
And it happened that, while he was with them at table, he took bread, said the blessing, broke it, and gave it to them. With that their eyes were opened and they recognized him, but he vanished from their sight.
That's sort of how it was when my own eyes were opened after looking into the Faith in depth. Surprise, surprise. Don't blink! Just kidding. Our Lord will always be right there for us. Don't you fret.
Now, if I may direct your gaze underneath Caravaggio's masterpiece, behold! A tool bar with buttons to click. Remember the multitude of things that were in the sidebars over at the old site? Many of them have been cleaned up and put away here. Use 'em when you need 'em. Presents a much more squared-away appearance too, doesn't it? There's an About the Blogger button, for telling yesterdays story to future visitors, as well as my Blogging Credo (thanks to Blessed Cardinal John Newman); another button for the Comment Policy (Ephesians 4:29-32); and finally, a Disclaimer button (courtesy of St. Francis de Sales) as well.
Still topside, but a little further to starboard (that's "right" for you lubbers), you'll find the new and improved reference section. Joy! Holy Scriptures from the ether? Hardly ethereal, my good people. But the electronic pathway to multiple translations of the Word can be found on the Search the Bible page. And right next door? None other than the world renowned (ha!) YIMCatholic Bookself awaits your reference seeking pleasure. Poetry, History, Novels, etc. You may never want to leave.
Ain't all this neatness and change grand?
Let's take a walk down the deck on the starboard side (from where you sit, dear reader) and have a look at the different stations we have for your use and edification. Aside from a few advertisements (I have no control over any of them. Contact Patheos HQ is you see something inappropriate), you should find yourself right at home. Under my mugshot there, you'll find the provisos the newcomers may be wary of, but the old hands will say "rightly so," and "my, they fit there perfectly!" And would you look at the size of that RSS feed button?! You'll not want to miss clicking on that contraption, but you may need to use all of your might. Go ahead, give it a try.
Further along, you'll see a familiar sight. It's where I beg of you to help me fund my pet project: the docu-drama film
All That Remains
. What's it about? Do click on that widget if you've never heard of this film, or if you have, and can spare a few schillings to throw in the jar there, please do. Saints be praised! I see some kind soul has just gifted another $150 to the cause just a few hours ago. Bless you, whoever you are, and thank you kindly.
Speaking of saints, we come upon one who is smiling favorably on the generosity of our benefactor and the rest of us as well; the Mother of all Christians! I do love this portrait of the Immaculate Conception, don't you? "Our Lady, Terror of Hell" is such a comforting title too. Under Our Lady's feet (as she demonstrates the effect of enmity with the serpent), we find a few new features that show lists of the most recent posts and comments. How about that?
Next, for those who like to subscribe to posts via their e-mail address, there is a portal to help make that come about for you. Plug your address therein and my handy crew will "make it so" for you, no questions asked. And look what we come upon next: the Facebook Page widget! This is starting to feel like home, isn't it? Wow, 897 fans of YIMCatholic. Guess what else? There's room for plenty more. My, they are a good lookin' bunch, don't you think? And how about those 89 folks following via Networked Blogs too? Good sports, all of them.
As we sidle on down the starboard side, we find the search window that can be used for finding words or phases in posts. Very convenient that, especially for the blog writer. Further on we have the post's "Tag Cloud" which is kind of scanty right now, but will fill out over time as more posts are, ahem, written. The archives of earlier posts are still enroute from our previous home port, you see. Now, if sealed orders arrive from the Admiralty before the Archives arrive, well…we'll shove off on our cruise and let the packet bring them to us later if necessary. Exigencies of the service, you know.
Wrapping up the tour now, you'll find all of the "cool links" we had before, as well as the blogroll to our colleagues' and friends' work as well. And in a new and wonderful twist, the Pandora Radio stations are listed here now, for easy access and your listening pleasure. Give them a try in between music posts. And lookee there, a link to the Twitter feed. Click on it at once to stay in contact at all times!
That, dear friends, brings us to the end of our tour, but not before we make a petition to our patrons St. Joan of Arc, who has defended us for over two years now, and St. Joseph, who spoke with actions that were louder than mere words. Sandwiched between them you'll find a list of recent posts from the Patheos Catholic portal, in case you still crave more fulfilling things to read following your visit here.
Thanks again for stopping by our Open House. If you find anything amiss, or that has been misplaced during the voyage to our new home port, or if things aren't working properly, please make me aware of any issues you may be having in the combox below. Do not hesitate to ask any questions or provide me with your feedback.
Welcome aboard!
Update: Happy 236th Birthday to the United States Navy. Huzzah!, huzzah!, huzzah!