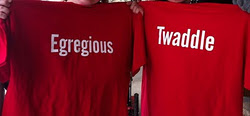 Fellow Patheos Catholic Portal blogger Max Lindenman sings the praises of Joanne McPortland, and you know what? So will I. Not that you need my approval or anything, but you have my express permission to follow her blog, which she christened Egregious Twaddle, and just recently broke out of mothballs.
Max was gushing about her post from Saturday, which she titled The Elephant in the Pew. I missed that one, see, because I was too busy dancing with Baby Jesus on Saturday to have caught that one when it first hit the electronic ether.
But she and I were trading links on Facebook earlier today regarding the March for Life, and Max's post alerted me to what I had missed, and to her post from yesterday, which builds on Elephant #1 and is called, I Have Met the Elephant and It is Me. In the first post, for years she admits to thinking that perhaps too much emphasis may have been made on life issues by the Church, while in the second post she notes that her pastor didn't mention Roe vs Wade at all on Support Life Sunday yesterday, and she was left thinking "why?"
Regarding her first admission, I can relate. I feel the same way regarding veterans issues. I readily admit that I get tired of all the endless turning of very national holiday into a "let's all genuflect to the veterans on this __________ Day." But I never tire of honoring those who served on Veterans Day, or Memorial Day. On those days, I sing their praises long, and loud. Same thing regarding supporting life on this day. Today is the day to sing the praises of the Pro-Life movement, for sure.
Speaking of awesome Pro-Life homilies, Deacon Greg Kandra sure mentioned Roe vs. Wade in his homily yesterday. And it's a 12 minute grand slam, with the added bonus that after hearing it, you can read his blog in his voice correctly. They that have ears, let them hear.