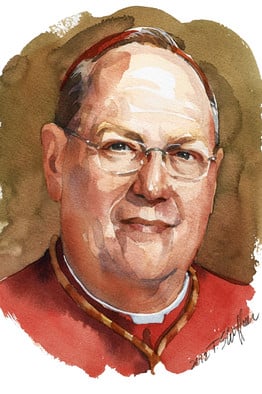 Stop the presses, as this just came in from todays' Wall Street Journal. A frank interview between James Taranto, and Cardinal Timothy Dolan on the HHS Mandate surprise attack. Perhaps "ambush" is a better description. You be the judge.
By JAMES TARANTO, New York

The president of the U.S. Conference of Bishops is careful to show due respect for the president of the United States. "I was deeply honored that he would call me and discuss these things with me," says the newly elevated Cardinal Timothy Dolan, archbishop of New York. But when Archbishop Dolan tells me his account of their discussions of the ObamaCare birth-control mandate, Barack Obama sounds imperious and deceitful to me.

Mr. Obama knew that the mandate would pose difficulties for the Catholic Church, so he invited Archbishop Dolan to the Oval Office last November, shortly before the bishops' General Assembly in Baltimore. At the end of their 45-minute discussion, the archbishop summed up what he understood as the president's message:

"I said, 'I've heard you say, first of all, that you have immense regard for the work of the Catholic Church in the United States in health care, education and charity. . . . I have heard you say that you are not going to let the administration do anything to impede that work and . . . that you take the protection of the rights of conscience with the utmost seriousness. . . . Does that accurately sum up our conversation?' [Mr. Obama] said, 'You bet it does.'"

The archbishop asked for permission to relay the message to the other bishops. "You don't have my permission, you've got my request," the president replied.

"So you can imagine the chagrin," Archbishop Dolan continues, "when he called me at the end of January to say that the mandates remain in place and that there would be no substantive change, and that the only thing that he could offer me was that we would have until August. . . . I said, 'Mr. President, I appreciate the call. Are you saying now that we have until August to introduce to you continual concerns that might trigger a substantive mitigation in these mandates?' He said, 'No, the mandates remain. We're more or less giving you this time to find out how you're going to be able to comply.' I said, 'Well, sir, we don't need the [extra time]. I can tell you now we're unable to comply.'"

The administration went ahead and announced the mandate. A public backlash ensued, and the archbishop got another call from the president on Feb. 10. "He said, 'You will be happy to hear religious institutions do not have to pay for this, that the burden will be on insurers.'" Archbishop Dolan asked if the president was seeking his input and was told the modified policy was a fait accompli. The call came at 9:30 a.m. The president announced the purported accommodation at 12:15 p.m.

Sister Carol Keehan of the pro-ObamaCare Catholic Health Association immediately pronounced herself satisfied with the change, and the bishops felt pressure to say something. "We wanted to avoid two headlines. Headline 1 was 'Bishops Celebrate . . . Accommodations.' . . . The other headline we wanted to avoid is 'Bishops Obstinate.'" They rushed out a "circumspect" statement, which Archbishop Dolan sums up as follows: "We welcome this initiative, we look forward to studying it, we hope that it's a decent first step, but we still have very weighty questions."

Within hours, "it dawned on us that there's not much here, and that's when we put out the more substantive [statement] by the end of the day, saying, 'Whoa, now we've had time to hear what was said at the announcement and to read the substance of it, and this just doesn't do it.'"

Having rushed to conciliate, they got the "Bishops Obstinate" headlines anyway.

Archbishop Dolan explains that the "accommodation" solves nothing, since most church-affiliated organizations either are self-insured or purchase coverage from Catholic insurance companies like Christian Brothers Investment Services and Catholic Mutual Group, which also see the mandate as "morally toxic." He argues that the mandate also infringes on the religious liberty of nonministerial organizations like the Knights of Columbus and Catholic-oriented businesses such as publishing houses, not to mention individuals, Catholic or not, who conscientiously object.

"We've grown hoarse saying this is not about contraception, this is about religious freedom," he says. What rankles him the most is the government's narrow definition of a religious institution. Your local Catholic parish, for instance, is exempt from the birth-control mandate. Not exempt are institutions such as hospitals, grade schools, universities and soup kitchens that employ or serve significant numbers of people from other faiths and whose main purpose is something other than proselytization.

"We find it completely unswallowable, both as Catholics and mostly as Americans, that a bureau of the American government would take it upon itself to define 'ministry,'" Archbishop Dolan says. "We would find that to be—we've used the words 'radical,' 'unprecedented' and 'dramatically intrusive.'"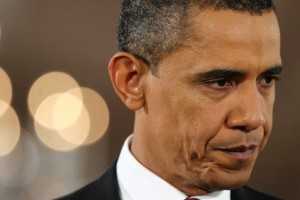 Still sitting on the edge of your seat? Exhale. Breathe in deeply. Now, go read the rest.
And did you see Peggy Noonan's piece as well the day before? It's a great companion to Taranto's. It's even got an knock-out title: Not-So-Smooth Operator. Here's a small taste,
Something's happening to President Obama's relationship with those who are inclined not to like his policies. They are now inclined not to like him. His supporters would say, "Nothing new there," but actually I think there is. I'm referring to the broad, stable, nonradical, non-birther right. Among them the level of dislike for the president has ratcheted up sharply the past few months.

It's not due to the election, and it's not because the Republican candidates are so compelling and making such brilliant cases against him. That, actually, isn't happening.

What is happening is that the president is coming across more and more as a trimmer, as an operator who's not operating in good faith. This is hardening positions and leading to increased political bitterness. And it's his fault, too. As an increase in polarization is a bad thing, it's a big fault.

The shift started on Jan. 20, with the mandate that agencies of the Catholic Church would have to provide birth-control services the church finds morally repugnant. The public reaction? "You're kidding me. That's not just bad judgment and a lack of civic tact, it's not even constitutional!" Faced with the blowback, the president offered a so-called accommodation that even its supporters recognized as devious. Not ill-advised, devious. Then his operatives flooded the airwaves with dishonest—not wrongheaded, dishonest—charges that those who defend the church's religious liberties are trying to take away your contraceptives.

What a sour taste this all left. How shocking it was, including for those in the church who'd been in touch with the administration and were murmuring about having been misled.

Events of just the past 10 days have contributed to the shift. There was the open-mic conversation with Russian President Dmitry Medvedev in which Mr. Obama pleaded for "space" and said he will have "more flexibility" in his negotiations once the election is over and those pesky voters have done their thing. On tape it looked so bush-league, so faux-sophisticated. When he knew he'd been caught, the president tried to laugh it off by comically covering a mic in a following meeting. It was all so . . . creepy.
Heh. And I thought I was the only one to think that. And now Peggy has gone and planted Sade's song into my formerly placid keppe. Do you know what that means? I have to infect you all with it too. With the long version, no less!
*Image Credits: Terry Shoffner/Getty Images