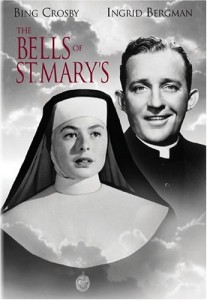 This is the year of seeing films I have never seen before. Last week, we saw Richard Burton and Jean Simmons in The Robe. And in the weeks previously, we've watched St. Ralph, and The Mighty Macs too. So aside from The Musketeers double feature, every film this year has been a first time view for me.
Tonight is no exception. I think it's about time that I saw Bing Crosby playing the role of a priest, don't you? And Ingrid Bergman is a favorite around here too, as you may recall. So tonight's feature has these two together in a little classic film entitled The Bells of St.Mary's.
I understand that it is a sequel to another really big film which I have seen called Going My Way. Here is all I know about the film,
Here's a teaser scene as well,
Talk about grading on a curve!
Time for some popcorn folks. You can find this one on Netflix Streaming, so queue it up and join us.