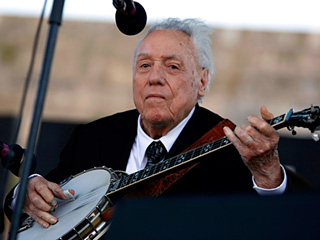 What is the happiest sounding instrument in the world? Hands down, my vote goes to the banjo. And one of the greatest players of the banjo of all time has been called home. Yes, we have lost Earl Scruggs, and I for one am saddened by this news. But not for long, see? Because Earl wouldn't put up with me wearing the long face for too long.
The Associated Press relates the news to us as follows,
It may be impossible to overstate the importance of bluegrass legend Earl Scruggs to American music. A pioneering banjo player who helped create modern country music, his sound is instantly recognizable and as intrinsically wrapped in the tapestry of the genre as Johnny Cash's baritone or Hank Williams' heartbreak.

Scruggs died Wednesday morning at age 88 of natural causes. The legacy he helped build with bandleader Bill Monroe, guitarist Lester Flatt and the rest of the Blue Grass Boys was evident all around Nashville, where he died in an area hospital. His string-bending, mind-blowing way of picking helped transform a regional sound into a national passion.

"It's not just bluegrass, it's American music," bluegrass fan turned country star Dierks Bentley said. "There's 17- or 18-year-old kids turning on today's country music and hearing that banjo and they have no idea where that came from. That sound has probably always been there for them and they don't realize someone invented that three-finger roll style of playing. You hear it everywhere."

Country music has transcended its regional roots, become a billion-dollar music and tourist enterprise, and evolved far beyond the classic sound Monroe and The Blue Grass Boys blasted out over the radio on The Grand Ole Opry on Dec. 8, 1945. Though he would eventually influence American culture in wide-ranging ways, Scruggs had no way of knowing this as he nervously prepared for his first show with Monroe. The 21-year-old wasn't sure how his new picking style would go over.
Go read the rest, because his influence was wide.
So mourn him briefly, I shall. And I pray for the repose of his soul, as well. But I also look forward to seeing him again someday, around that big ol' lake of beer that St. Bridgid spoke of. I think the watering hole will sound something like this, with Men With Banjos, Who Know How to Use Them. The legendary Earl Scruggs, comedian Steve Martin, and the rest, give us a taste of heaven here,
Lord Jesus Christ, bring Earl, and all your children, especially those most in need of thy mercy, into your everlasting light. Amen
*Image Credit: Joe Giblin/AP