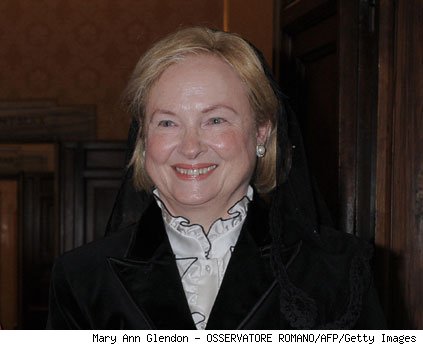 Last Tuesday, I shared Mary Ann Glendon's piece in the Wall Street Journal explaining why we are suing the U.S. Government. Today, Kathy Schiffer learns that Glendon has been appointed to the U.S. Commission on International Religious Freedom (USCIRF). She wonders if Glendon might be able to help the Administration realize how ridiculous they look trying to protect religious liberty overseas while they trample on it at home.
Take a look at Kathy's post,
New Development: Can Mary Ann Glendon Reverse Government Policy on Religious Liberty?
Somehow I don't think that will happen, as the Administration will say, "Talk to the hand, Mary Ann, there's nothing to see here. Keep looking overseas, say in Cuba, or China. But leave the domestic driving to us, ok? Don't you have a plane to catch?"
I'm glad Glendon was appointed to this post though. I think she will do a lot of good on the USCIRF.