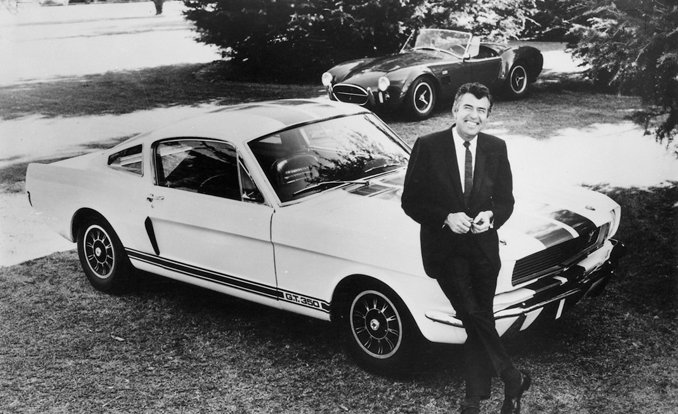 It has been a week full of passings. We started off by losing Maurice Sendak, and we wind it up by losing Carroll Shelby, a gearhead of epic proportions. That's him leaning on the legendary G.T. 350 Shelby Mustang, with a Shelby Cobra in the background for good measure. One of my colleagues at work broke the news to me gently today that Carroll had died of pneumonia on Thursday after an extended illness. I said a prayer for his soul immediately upon hearing this news, just like he was family.
As a gearhead, and a Mustang owner and fan, Carroll Shelby has always loomed large in my mind as one of the greats of motorsports. Around Casa del Weathers, we even love his chili mix. The first go around I had with modifying my Mustang (that's her in the banner photograph above) was by installing the Ford Motorsports GT40 Performance package. The aluminum cylinder heads were called GT40 heads because they supposedly (I don't really know for sure) were castings of the GT40 heads that Shelby used on the initial batch of modified 289 V-8's he used on the GT40 Prototype racecar that eventually whipped Ferrari four years in a row in the late 1960's.
Carroll Shelby and Mustangs go together like peas and carrots. And it doesn't matter what anyone thinks (I'm talking to you, Father Dwight Longenecker) regarding which muscle cars were/are the best between Chevy Camaros, Dodge Challengers, and Ford Mustangs, because when a Shelby Mustang rolled up, the Boss had arrived, and the jig was up. Shelby Mustangs didn't just go fast in a straight line, but were corner carvers too. Here, I'll let him tell you all about it…
http://www.youtube.com/watch?v=06Pjw6Iiwxg
Racing sounds a lot like life, doesn't it? Over at Car & Driver magazine, Steven Cole Smith does him justice as follows,
The automotive world's most famous failed chicken farmer, Carroll Shelby, died Thursday, May 10 at Baylor Hospital in Dallas, 110 miles due west from tiny Leesburg, Texas, where he was born on January 11, 1923. Shelby, 89, had been ill for eight months, and the cause of death was listed as pneumonia.

Shelby often said that if he had been better at raising chickens, he never would have had to resort to his career plan B: building and racing cars.

That the automotive icon lasted as long as he did surprised no one more than Shelby, who was first diagnosed with heart problems 52 years ago, which effectively ended his race-driving career—near the end he was downing nitroglycerin tablets while he drove. One year earlier, he had won the 24 Hours of Le Mans, but he did not complain about the cards dealt to him, so seamless was his transition to car designer and builder.

"We are all deeply saddened, and feel a tremendous sense of loss for Carroll's family, ourselves, and the entire automotive industry," said Joe Conway, board member and president of Carroll Shelby International, Inc. "There has been no one like Carroll Shelby and never will be. However, we promised Carroll we would carry on, and he put the team, the products, and the vision in place to do just that."

Shelby's path to sports cars was a typical one for the era: He began as a hobbyist in 1952, drag-racing hot rods. By May of that year, he had won his first road race, driving an MG-TC in Norman, Oklahoma, beating faster, more powerful cars. Not surprisingly, he soon sought more powerful cars to drive, building a reputation that led to an invitation in 1954 to drive an Aston Martin DB3 at Sebring and then an Aston DBR3 at Le Mans.

Three years later—the chicken-raising business forgotten—he founded Carroll Shelby Sports Cars in Dallas.

In 1960, Shelby was preparing to race a Maserati 250F, but everything changed a month later when he experienced chest pains, and a doctor confirmed he had angina pectoralis, a heart condition. His final professional race was in December 1960.

One year later, though, Shelby set in motion the sort of innovation and entrepreneurship that made him a legend. In 1961, he made a deal with British firm AC Cars to install a new, compact Ford V-8 in its tiny sports car at his shop in California. He called it the Cobra.
And the rest is history. Go read it all. While you're at it, take a look at the timeline of his career that the folks at Motortrend put together. If you want to learn the inside scoop on how Carroll Shelby turned around the GT40 program for Ford, and beat the whizbang dual cam, finicky Ferrari's at the greatest race of them all, check out this book by Dave Friedman. You'll be glad you did.
'Ol Shel? I hope to see you topside one day.