Another day, another magnificent saint for us to model our behavior after. This is one of the great things about the liturgical calendar during
the Octave of Christmas
. Yesterday, the Church commemorated the Holy Innocents.
For today, we have another martyr, of the type that needs not much of an introduction. You know the type, or do you? The story of St. Thomas Becket shows us that yes, people can change when they answer the call of conversion, open themselves to God, and allow the circumcision of their hearts.
A few years ago, way back in the days of early Spring, deep in the heart of the Lenten season, I was showing you movies on Friday nights. If you need some entertainment tonight or for later this weekend, you could do worse than spend some time watching Becket starring Peter O'Toole and Richard Burton in this fully restored masterpiece.
Ever had a buddy who was an enabler, you know, aided and abetted your carousing, etc? If you were King of England, wouldn't it be cool to appoint your pal the Archbishop of Canterbury? Think of the wacky stunts you could pull if your confessor was also your best buddy! That's what King Henry II thought when he appointed his chum, and former hell-raiser, Thomas Becket as Archbishop.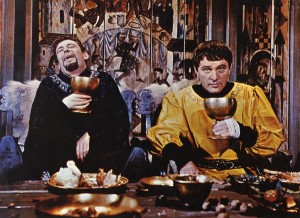 What happened, of course, was a stunning story of "be careful what you wish for" from both sides of the friendship spectrum.
Because when Becket was made the Archbishop, see, all of the sudden he became a servant of Christ and His Church. Becket's conversion was sudden and apparent, if only to himself in the beginning. His reputation as friend of King Henry colored how many saw him in his new role.
Have a look at this scene where as the Archbishop of Canterbury, the burden of his office is made manifest to him, and to us. Did Thomas really put God first, was a question that many asked of themselves, and answered in error, from the lowliest of brothers to the Bishop of London himself. See how our saint handles the yoke of his newfound burden.
A good, simple prayer, that. And Burton's Becket gives the proud among us (of whom I am inclined to be the foremost, Christ have mercy) very good advice through his dialogue with Brother John. The saints are always teaching us lessons on how to live Christianity through their actions.
It would be magnificent if you could see Becket's crypt today. Unfortunately, another King named Henry (the  Eighth) destroyed this shrine, and our saints' relics, when he too tangled with the Church and martyred another saint named Thomas (More) and severed the link between London and Rome. Now all you can see there is a lit candle and this small sign.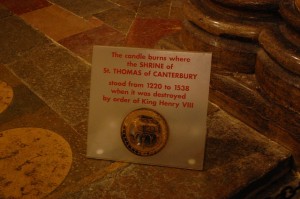 St. Thomas Becket, pray for us. I think these good people are asking for his prayers too.
Ahem, Netflix beckons.