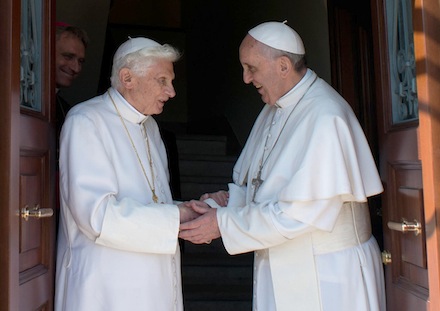 That's what it looks like to me. They've done stuff like this to boost pageviews before, you know.
And what, pray tell, is the cause of the supposed rancor? An alleged disagreement over how Pope Benedict feels about Pope Francis's ban imposed on the congregation of the Franciscan Friars of the Immaculate  from celebrating the Extraordinary Form of the Mass.
Feel free to pop on over to HuffPost if you so desire, but before you go, let me leave you with a few cautionary words from Pope Benedict XVI leveled at the media. Perhaps you have forgotten, but back in February, a few days after he announced his retirement, he told the story of how the Second Vatican Council was hijacked by the media. Remember it?
I would now like to add yet a third point: there was the Council of the Fathers – the true Council – but there was also the Council of the media. It was almost a Council in and of itself, and the world perceived the Council through them, through the media. So the immediately efficiently Council that got thorough to the people, was that of the media, not that of the Fathers. And while the Council of the Fathers evolved within the faith, it was a Council of the faith that sought the intellectus, that sought to understand and try to understand the signs of God at that moment, that tried to meet the challenge of God in this time to find the words for today and tomorrow. So while the whole council – as I said – moved within the faith, as fides quaerens intellectum, the Council of journalists did not, naturally, take place within the world of faith but within the categories of the media of today, that is outside of the faith, with different hermeneutics. It was a hermeneutic of politics.
What do you think the odds are that they are trying to hijack our perceptions of Pope Francis too? Right. Beer, shampoo, pageviews, ratings, and leading folks around by the nose, again.
As a friend of mine put it, "the Huffington Post citing Rorate Caeli and Sandro Magister reminds me of how the French philosophes would use the writings out of Port Royal (Pascal, etc.) to attack the Church. The secularists are only too happy to point out right-wing dissidents within the Church."
Agreed. Don't fall for it.
Related:
On proselytism, Pope Francis has plenty of company.
Definitive Recap: Taming the Constant Francis.