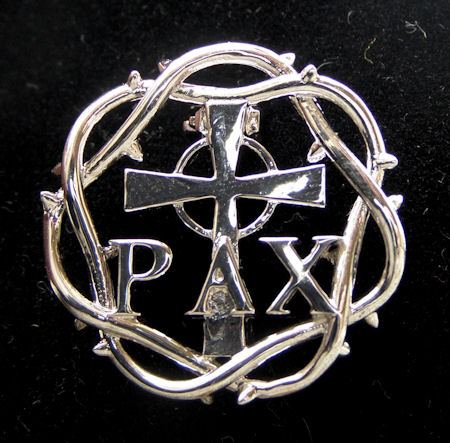 It has been a roller coaster of a week. Russia invited themselves into Ukraine, Pope Francis gave another interview, a bishop in Texas did what he had to do, the reverberations of which are still rippling outwards. Can you say, hurly-burly? I'm reminded of what Rumer Godden wrote in the opening lines of In This House of Brede
,
The motto was "Pax," but the word was set in a circle of thorns. Pax: peace, but what a strange peace, made of unremitting toil and effort, seldom with a seen result; subject to constant interruptions, unexpected demands, short sleep at nights, little comfort, sometimes scant food; beset with disappointments and usually misunderstood; yet peace all the same, undying, filled with joy and gratitude and love. "It is my own peace I give unto you." Not, notice, the world's peace.
Thoughts that are just in time for the Lenten season, which began yesterday for us Roman Catholics.
Now, I've been a Catholic for going on six years and I have to say that THIS YEAR I witnessed the MOST folks I've ever seen at Mass on Ash Wednesday. It's not even close. The Pope Francis effect? Folks realizing they need to repent and hear the Gospel? I don't know. I just loved it being so crowded though.
Over these days of Lent, there will be ample opportunities to offer up fasting, alms giving, and prayer intentions for our own needs, and for the needs of others. I really didn't think I would feel moved to play VJ today. But after the tsunami of the news cycle, I was nudged in that direction anyway.
These five songs are what I came up with to help start this season of prayerful sacrifice. Offer up prayers for Pope Francis, for the folks facing war while striving for peace, and for the salvation of the whole world. Give alms to those in need (
like to these nuns in Ukraine
). And listen to these tunes  as a way to joyfully kick off a healthy, introspective, penance that is directed outwards for the benefit of Christ, His Church, and the whole world.
U2, Vertigo. One of my favorite bands for all seasons. This songs' title fits the mood many are feeling currently, yes? And the contrails the lads are leaving behind brings the saying, "you are dust and to dust you will return" into bold relief.

Stevie Wonder, Higher Ground. With special guest Sting (lookin' like he gave up shaving for Lent?)in a funky two-for-one song set. I'm looking for higher ground, both physically and spiritually. And it doesn't hurt to call Roxanne in out of darkness either.
David Gilmour, Coming Back To Life. What does an atheist know about Lent? Well, the lyrics to this song make me think that he's on the path, even if he doesn't realize it. Broken, hurt, helpless, willing to put aside the past and move into life. He says the sun, while I say the Son. Today is his 68th birthday, too, so I'm glad he, and his talent, are on the planet.
http://youtu.be/4wtj8olA4l0
Aaron Shust, Give It All Away. I've included this video as a musical reminder of my modest proposal for Lenten sacrifice.
Nick Alexander, This Time of Forty Days. Think of this as a modern version of St. Gregory the Great's, The Glory of These Forty Days.
Pax! +:-)