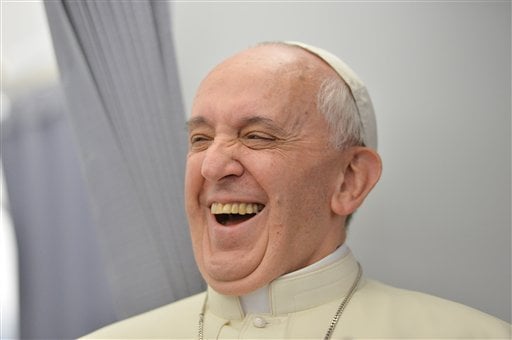 And she's remarried? Yeah, I'll believe it when I see the press conference. From across the pond, Damien Thompson shares the tale. Would you believe it involves a Facebook post?
Pope Francis has phoned a divorced and remarried Catholic woman in Argentina to tell her that she could "safely receive Communion",according to an extraordinary report in La Stampa.

The woman's husband, writing on Facebook, claims that the Pope – introducing himself as "Father Bergoglio" – spoke to his wife, who'd been divorced before marrying him and told her that men or women who were divorced and received Communion weren't doing anything wrong. He apparently added that this matter is under discussion at the Vatican. (Quick health warning: given the complexity of this subject, we needmuch more clarity on what Francis reportedly said. I find it hard to believe that he would make such an unqualified statement.)

The conversation with Jacquelina Sabetta is supposed to have taken place on Easter Monday.
Yeah. Just to be clear, divorced people can receive the Blessed Sacrament, go to Reconciliation, etc. The problem is only for the divorced who have remarried without an annulment. Even Catholics that have endured a divorce don't realize this oftentimes.
You know something that has always struck me as amazing about the saints? They don't do things that contradict the teachings of the Church. Like St. Faustina, the disciple of the Divine Mercy, for example.
O Eternal Truth, Word Incarnate, who most faithfully fulfilled Your Father"s will, today I am becoming a martyr of Your inspirations, since I cannot carry them out because I have no will of my own, though interiorly I see Your will clearly. I submit in everything to the will of my superiors and my confessor. I will follow Your will insofar as You will permit me to do so through Your representative. O my Jesus, it cannot be helped, but I give priority to the voice of the Church over the voice with which You speak to me.
I'm not saying Pope Francis is a saint, but I take him at his word that he is "a faithful son of the Church," and that he isn't going to get flagged for a false start before the council being called to discuss this issue has presented its findings.
Anyway, we've dealt with the (in)accuracy of Italian journalism before. It will be prudent to wait this story out.
UPDATE
Deacon Greg Kandra: "Color me skeptical."
The Vatican Insider, at La Stampa,
…it is a misinterpretation because the person the Pope spoke with was not divorced as was originally believed.

"It's not me who's divorced," one of the female protagonists in this story said in an interview with Buenos Aires radio station La Red Am910. Lisbona said it was her husband, Julio Zabeta, who had divorced, but she never married in the Church. The two have been united in civil matrimony for the past nineteen years and have two daughters.

"We used to go to mass, not every day. Here at home, we pray every evening, turning to God always; when someone is in a difficult situation God is the first one they turn to. I wrote the letter spontaneously. I wrote to him because he's Argentinean, he listens to people and I believe in miracles," she said.

The woman also said she tried taking Communion again last year but not only did the local priest apparently say he could not give her Communion, he even said she could not access the sacrament of Confession either. "[They told me that] when I went home, I resumed a life of sin," she added.

The woman finally decided to write to Pope Francis to explain her situation to him. The letter was sent last September.
UPDATE II
Fr. Lombardi responds to reports of Pope's call to Argentinian woman,
Several telephone calls have taken place in the context of Pope Francis' personal pastoral
relationships.

Since they do not in any way form part of the Pope's public activities, no information or
comments are to be expected from the Holy See Press Office.

That which has been communicated in relation to this matter, outside the scope of personal
relationships, and the consequent media amplification, cannot be confirmed as reliable, and is
a source of misunderstanding and confusion.

Therefore, consequences relating to the teaching of the Church are not to be inferred from
these occurrences.
Caveat emptor.