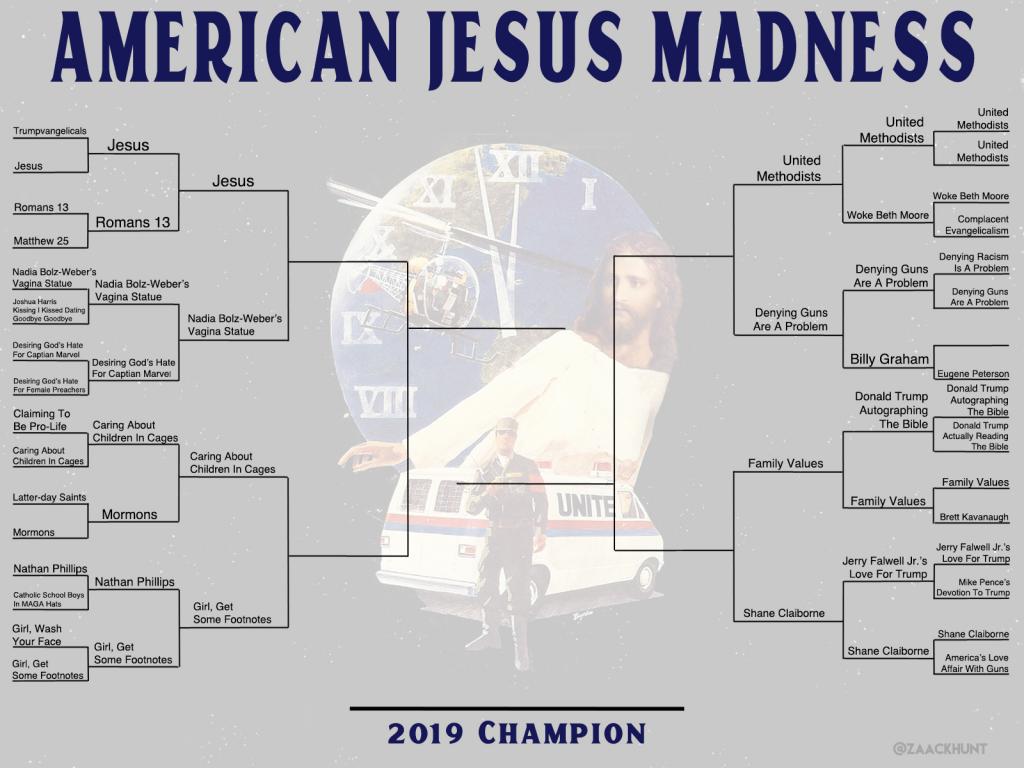 Looking back I realize I should have written "Nadia Bolz-Weber's Vagina Sculpture" instead of "Nadia Bolz-Weber's Vagina Statue" but that minor mistake didn't keep Nadia from a major victory over Desiring God which I think we all would agree is something to celebrate no matter what you call it.
But now she's facing Jesus himself.
Will she and her sculpture/statue be able to take down God incarnate?
As always, that's up to you.
BUT….here's where things get really fun this year.
We've had two rounds of voting so far and as I know since I'm literally the one keeping score, a lot of your brackets are already busted. Or maybe you forgot to turn in a bracket in the first place.
Well, Lazarus, it's time to walk out of that tomb.
That's right, it's Resurrection Bracket time!!
If your bracket is completely busted, meaning you have no statistical chance of placing in the TOP 3, or you never turned in your bracket in the first place, print off the new bracket with the remaining Exquisite 8, fill it out, and send it back to me BEFORE MIDNIGHT TOMORROW NIGHT.
Do that and you'll have a chance at winning a signed copy of my brand new book, Unraptured.
Which is, obviously, like the greatest prize ever I'm just saying.
So, what are you waiting for??
Just make sure you do your math carefully because if you enter the Resurrection Bracket you will be eliminated from the original bracket challenge. YOU CANNOT WIN BOTH.
So print off your bracket, fill it out, and get it back to me BEFORE MIDNIGHT TOMORROW NIGHT if you want to be entered into the Resurrection Bracket.
Either way, check out the results of the Salacious 16  and our updated bracket leaderboard before, then come back and see me Monday morning when voting will start for the Exquisite 8!!
 
SALACIOUS 16 RESULTS
Jesus – 98%          Romans 13 – 2%
Nadia Bolz-Weber's Vagina Statue – 91%         Desiring God's Hate For Captain Marvel – 9%
Caring About Children In Cages – 98%          Mormons – 2%
Nathan Phillips – 11%            Girl, Get Some Footnotes – 89%
United Methodists – 89%          Woke Beth Moore – 11%
Denying Guns Are A Problem – 95%           Billy Graham – 5%
Donald Trump Autographing The Bible – 15%         Family Values – 85%
Jerry Falwell Jr.'s Love For Trump – 8%          Shane Claiborne – 92%
BRACKET LEADERS
1. Richard McNeeley – 56 points
2. Kara Govoni – 42 points
3. Megan Hamshar – 37 points
3. Phil George – 37 points
5. Serena Severance – 36 points
5. Jon Christian – 36 points