I've got nothing but good things to offer today! First, my new book, "In Pursuit: Devotions for the Hunter and Fisherman," is being offered on Kindle today for free. Yeah, I said "free." I know… I'm with you… in fact, I'm more shocked than you are. I don't know how anyone can do this and still make a living. But, alas, it's still true. Just click this link and you own gold. Sort of.
You can pick up an e-book at any of these great booksellers: Christianbook, Amazon, and Barnes & Noble.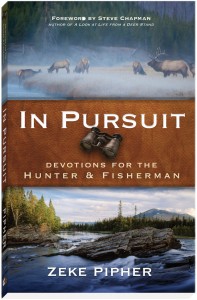 Secondly, and more importantly, if you watch the video below, you'll see my son demonstrate how to put on a cowboy hat the Nebraska way. I was preparing for a fly fishing trip last summer, and Aidan grabbed my hat and proclaimed, "I know how to put this on
the Nebraska way
, Dad!"
"Prove it," I said.
He did.
I challenge you to find another place on the web where you can get a free book AND a hat placement tutorial ON THE SAME BLOG. Happy reading and hat donning!
For more on Zeke, check out www.zekepipher.com.