On three guys! One, two…dammit Jimmy!
Can't you lift your mace and chain higher than that?
Christians aren't going to tremble in fear when it looks like you're out to rake the leaves!
Aw, don't cry. Don't cry! We're all friends here, we'll just try it again.
A long, long time ago, in a galaxy frightfully near, when I was caught in the awkward throes of middle-school, Black Metal and Death Metal were where it was at. In fairness, I attended a British military school in Germany, which sort of implies dysfunction. But regardless, a good number of my friends were infatuated with growing their hair and dying it black, painting their nails, doing drugs, getting schwasted, wearing dead/dying/skeletal/demonic guitar players on their t-shirts, and rocking their satanic symbols; for what's metal without corporate merchandise? Oh, how the warm memories return. There was the pentagram, the anarchy sign, the various nordic runes – which they assured me all meant Very Evil Things – and, of course, the upside-down cross. I was only a little larval-stage Catholic, but even then I knew the upside-down cross was funny. "Oh hey, upside-down cross. Real satanic guys, real scary and evil. Really sets off your brooding, church-burning hatred of weak Christian values. Christians everywhere tremble when they…oh wait."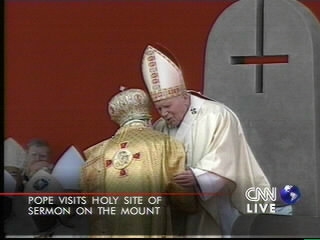 Too bad the big, scary Pope beat you to it.
The whole 'mistaking the cross of St. Peter for some satanic symbol' is forgivable. Cute, even. But what is absolutely, utterly unforgivable is the notion that Metal culture is somehow darker and scarier than the Church. That it, in its reckless portrayal of evil, sends Catholics scurrying for cover, shaking under their beds, clutching their rosaries. No. The Church invented dark and scary. Black Metal – and all odd attempts at satanism – can only imitate. This was struck home to me as I listened to the hilariously awful group Deicide. See what they did there? Deicide? God-killing? Novel freaking concept guys, no one's ever thought of that before.
The new, viciously anti-Christian album cover
of the group Deicide, who propose the shocking
idea that God should be killed.  Christians everywhere
are disgusted, seeking to have the picture banned from public schools.
You see, the problem with Black Metal – and similar super-cool forms of Satan-worship – is that it can't keep up with the Roman Catholic Church. They make grotesque album covers full of bloodied skeletons either a) having lots of fun playing music or b) desecrating some holy place/thing or c) doing both AT THE SAME TIME OMG, and their fans say "Wow! How bold!" And thus we get the brilliantly original pile of skulls.
As a Catholic, I have to laugh. Because you see, not only am I religiously obligated to have no fear of Death, who is dead, but I've literally prayed a rosary in a chapel in Rome made out of the bones of hundreds of martyred monks.
We win.
What metal culture can only snatch at in its limited imagination, the Catholic Church builds churches out of. Seriously, we have churches made out of the dead. Why not? Death is dead. It's a fear of death that seeks to show it as something gloriously hideous and horrendous. It's a fear of death that wallows in it, uses images of it to convey evil and despair. It's a boldness, a courage, a rebellious defiance that stares death in the face. The message of this particular chapel is simple: Remember man that you are dust, and to dust you shall return. Remember your death. Remember and prepare your hearts and souls. But never, ever, ever fear it; it has been conquered by the Christ. It has been destroyed. So pilgrims stare at the relics surrounding them and are led to joy, to prayer, and to contemplation that this world is a passing thing.
Meanwhile, back in the bowels of Norway, Death Metal continues to wistfully draw album covers of dead people, wondering how on earth to shock the Christian world. And that's why the Metal culture and the Culture of Death make up so weak a pair! They are trying to fight with a weapon that has been broken, split open by God. Worship of Satan is the ultimate exercise in futility, akin to betting on the loser of a race that's already been run. They cannot match the courage of the Christian, who is born trampling on the grave.
But bless them, still they try; in their lyrics, their music and their art. The music bores me from of a lack of contrast, and a similar lack of courage. If you paint the most hideous depth of Hell entirely in the same shade of black, no one will see Hell, and no one will be frightened. If your lyrics, your screaming, your riffs and your image all take evil as their foundation, no one can hear the evil for the noise. It's boring. And when you get to the art, the earlier thesis still applies: You can't out-darken the Catholic tradition.
Juxtaposing freaky innocence with evil?  Yeah, our's is scarier.
General gore and blood? Don't even try.
Our picture, sorry Iron Maiden.
And don't get me wrong, the death/black metal culture can be incredibly offensive. Just looking for their album covers is enough to have me join a cloistered order and spend a lifetime praying in reparation for the sins of the world. But it's a sadness, not a fear. These people are so very loved by God. Their rebellion is so dumb, because you cannot worship Satan without knowledge of God, and you cannot deny God without denying your own fulfillment. And so the Sacred Heart burns and bleeds for them, and they continue to be beaten by the Church on every side.
My point then: Unlike the trembling Metalheads, don't be scared of the Devil. He has power, sure, and he is real, without a doubt, but he has been reigned by God, crushed by our Mother Mary. Realize that only with courage in the face of evil, only upon entering into the rebellion against sin and death we call the Church, can one truly name evil, and expose it for what it is. For Satan does not tempt as a grotesque object of worship on some infernal throne; he'd be an idiot to try. Rather, he tempts us in the everyday. He tempts us with bad philosophy. He tempts us with easy ways out. He tempts us to worship our selves. Amen, amen I say to you, if the all-out, Satan-worshipping disciple of Black Metal manages somehow to avoid the terrible mercy of God, he will find himself damned not for his mockeries, his darkness, or his demonic, skeletal art, but for his Pride, just like the white-collared, straightedged man next to him.
The truth is this: The pathetic evil Black Metal fans indulge in is just a mask of Satan, for if he were to reveal himself as he truly was, the same fans would convert to Catholicism. Either way, we win the dark and scary competition.