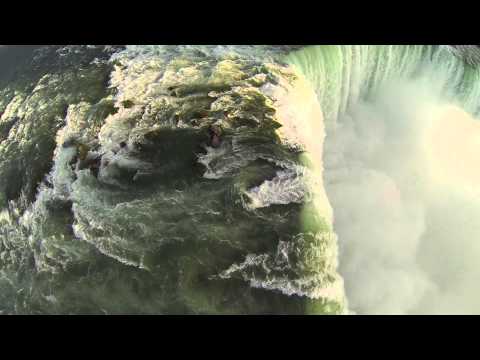 The most amazing thing about this video, at least to me?
It was filmed from a DJI Phantom Quadcopter using a GoPro Hero 3.  The former runs somewhere in the $700 range, I believe. And the latter is about $400 at the top end. You'd also need a camera mount to do what YouTube user QuestPact (otherwise known as Animation Fascination's Matt Quest) did, so that's another $700 or so. Throw in the amusingly-named Fat Shark "radio-controlled first-person-view system" at around $350 (so that Matt can see what his chopper's seeing), and you're talking about spending $2,200 for some of the most amazing (and HD, don't forget!) aerial footage you'll ever see.
That's an incredibly rough estimate, I know. Is there a ton of extra equipment that's been added to that little copter that I'm not accounting for? Probably. And I'm guessing there have also been a lot of special modifications made to bolster its pilot's confidence that it can actually survive such a harrowing journey. But still… Can you imagine how much it would have cost you to get footage of that same quality and from that same stunning vantage point 20 years ago?