… The kook-buggery of Asheville aside, it does have the beautiful St. Lawrence Basilica. The entire structure is over a hundred years old, held together entirely with tile and mortar, and has the largest free standing elliptical dome in North America. The architect, Rafael Guastavino [who's also entombed here], designed the Basilica after his childhood parish in Spain. Guastavino's tile work can also be found in Union Station, Grand Central Station, and in the birdge market under Queensboro Bridge. He came to Asheville after being commissioned to create tile work for the Châteauesque-styled mansion of Biltmore Estate, fell in love with mountains and retired in NC. I don't blame him. I've lived up and down the east coast and all along the southern region of this country and decided North Carolina is my home. I won't be moving again till I'm ready to retire at my seaside villa in Italy.
Mrs. Digi
snapped these wonderful photos with her fancy-schmancy camera and I wanted to share them with you. She did a wonderful job using an HDR technique that enhances the detail and some other photography jargon. She explained the whole technical process to me over a few beers once, but I'll spare you since you probably aren't drinking. Or maybe you are. Who am I to judge if you read blogs drunk?
Main Altar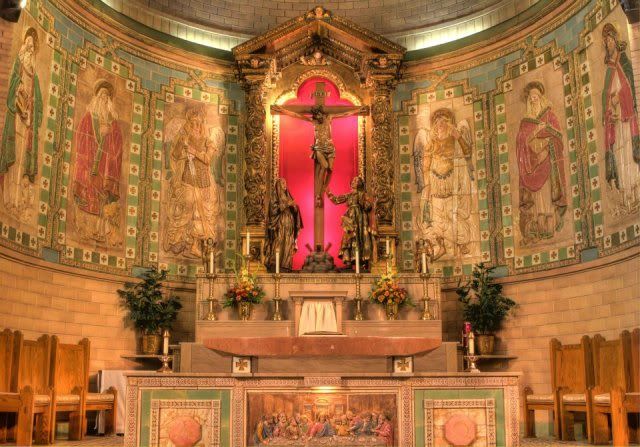 Crucifix detail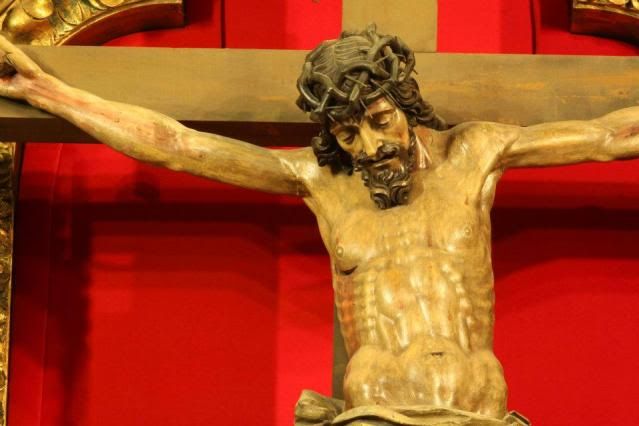 My most favorite statue ever… Christ offering Himself. I've never seen another statue like this, with Jesus holding a Host.