… I think mantillas are lovely and the women who wear them even more so. Yet I do not wear one. This past weekend I gave away the one remaining mantilla I owned because I knew I'd never wear it. Well, the mantilla was white after all and after having a child and going through a divorce I felt silly sitting in church with that virginal white lace gleaming off the top my head. White… who are we kidding here?
The other mantilla I owned was a very lovely black one that blended perfectly into my hair color so you really couldn't tell I even had it on. And it was made of the sheerest most delicate lace; a wisp of a thing. I was in the bathroom adjusting it before mass and looked at myself in the mirror admiring my piety. HA!
Two things immediately struck me. I wondered what the point was of "covering" my hair with such a transparent thing and the other was I really lacked the pious aura needed to pull off the look. I removed the mantilla and simply left it on the bathroom counter.
A month or so later I gave it another try but instead I used a scarf. Unfortunately my attempts failed yet again. You simply can not do "Catholic piety and modesty" in a flashy Hermes scarf.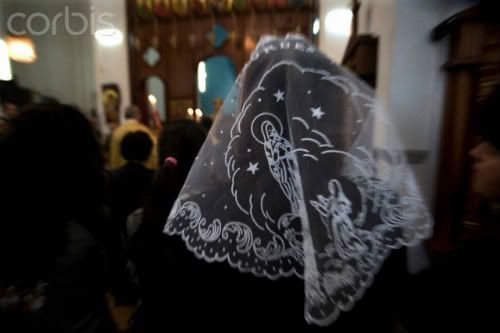 Image: Attending a Mass at a church in Cana, Israel; November 1, 2006 – All Saints Day. Photographed by Alexandra Boulat.
At my old parish women rarely covered their heads for mass; however, at my new parish it's a 50/50 split. Even at the vigil masses, which slackers like myself typically prefer, the women still wear them. Being in the majority you'd think I would be able to find the courage to try wearing one again. I'd certainly be less conspicuous. Yet I still do not.
Why? Because mantillas make me uncomfortable. They are uncomfortable to wear in that they outwardly imply an inner piety I feel I'm lacking. Quite simply, I feel silly in them.
I know. I know. Fake it till you make it; meaning to adopt the postures and practices of pious people and hope it sincerely sticks. But then I may be challenged out of complacency. Whine. Wail. Rant.
I'm thinking of making this a Lenten practice. Lent already?! Let's just hope I can follow through with this better than I did on my dress challenge, which never made it past day 15 because I caved and wore jeans to the Panthers football game.
A for effort?