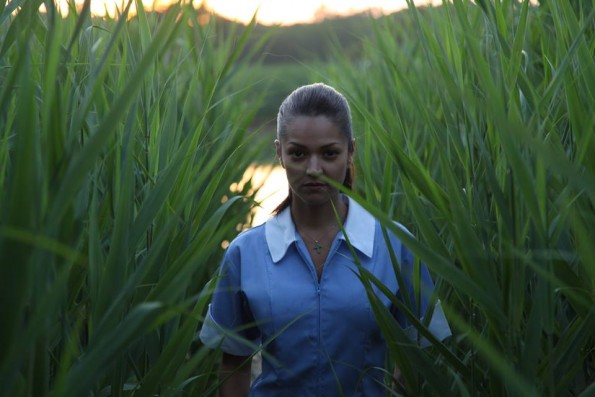 The Maid's Room ( ★★½) wastes no time setting up its plot. The film opens with Drina (Paula Garcés) being interviewed for a job as a maid in a luxurious country home in East Hampton, NY. After quickly being hired, Drina is shown to the titular room, which she decorates with a large, prominently placed poster for Steven Soderbergh's Erin Brockovich. Why is Drina, an immigrant from Colombia, enamored of a Hollywood movie from 2000? The viewer soon learns it is not the film which Drina finds inspiring, but rather Julia Roberts' character, who boldly stands up for truth and justice while taking on the corrupt system.
It is not long until Drina finds herself aware of a grave injustice and unable to do anything because of her status as an immigrant who may or may not be in America legally. Further complicating her situation, if she chooses to reveal the truth, it will be her word against that of her wealthy, powerful, and influential employer, Mr. Crawford (Bill Camp). We know he is wealthy because he lives in New York and owns a huge weekend home in the country. We know he is powerful and influential, because his son Brandon (Philip Ettinger) tells us, and because he has an old photo of himself shaking hands with Bill Clinton.
Despite his important standing, or possibly because of it, Mr. Crawford and his wife (Annabella Sciorra) will go to any lengths to protect their family name. When Drina accidentally discovers a terrible secret, due to the location of the maid's room, it becomes clear that the Crawfords will go to astonishing lengths to protect their family's reputation. Unfortunately, their efforts cross the line into absurdity and undermine much of the film's suspense.
The first forty minutes of The Maid's Room are just short of brilliant. Drina is working an ideal job, but she is a fish out of water and clearly feels uncomfortable. Her employers seem very kind, but they are demanding, and the recklessness of their son frightens her. The film subtly captures that tension, creating a terrific atmosphere with an appropriately melodic and haunting orchestral score. When a crime and attempted cover-up occur, the film begins to go off the rails, turning into an uninspired and rather stupid rip-off of a certain famous Hitchcock film, which to name would constitute a spoiler.
In addition to becoming a Hitchcock rip-off, The Maid's Room touches on political and religious themes, but it never develops them. After discovering Drina knows the terrible secret, the Crawfords first try to bribe her, then blackmail her, and finally insult her by calling her "dirt" and "not even a person." The scene is intended to stir up righteous indignation at the out of touch, wealthy Crawfords and their belief that they are above the law, but it is antithetical to their intent of securing Drina's silence and almost comes across as laughable.
It is revealed that the Crawfords are Catholic, and the idea of one feeling compelled to confess a crime is mentioned, but that theme is also dropped after Mr. Crawford brags of his well-known generosity toward charities to a priest who is helping two Hispanic friends of Drina's search for her. If Mr. Crawford has a religious background as the film suggests, it is incredible that he could feel no guilt or remorse whatsoever as he makes shockingly unethical decisions. Actually, it is incredible anyone other than a psychopath could rationalize his actions without hesitation the way Mr. Crawford does.
Despite the many second act flaws, the film is not without merit. The opening act is very strong, the four leads dig into their characters with relish, and Arturo Rogriguez composed an effective, atmospheric score. Unfortunately, the undeveloped themes, as well as the lack of suspense and mystery significantly detract from the effectiveness of the film's strengths. I never imagined I would see Julia Roberts, Bill Clinton, and Alfred Hitchcock tied together by a single movie. The Maid's Room manages to do that; however, it becomes as uneven as those three celebrities are diverse.
The Maid's Room is available from FilmBuff on  iTunes, Amazon Instant Video, and Movies on Demand, beginning August 8, 2014.
—
Evan Cogswell blogs about film at Catholic Cinephile.