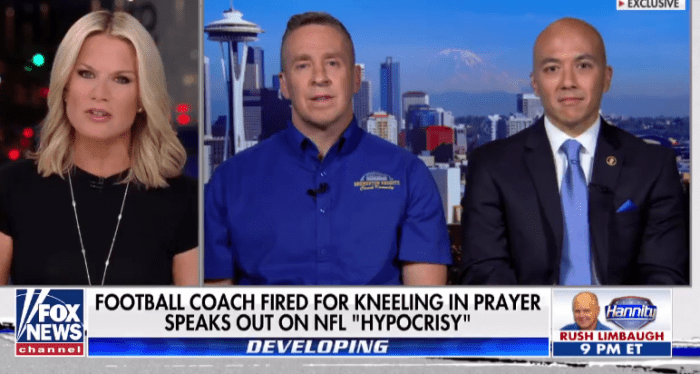 This is powerful.  The Federalist explains a significant double-standard as it applies to kneeling on the football field:
Two men find themselves at the center of controversy for taking a knee: Colin Kaepernick and Joseph Kennedy. Kaepernick is known for taking a knee in a pre-game protest. Kennedy is known for taking a knee in a post-game prayer.
You probably know where this is going.  The School District took the free speech rights away from Coach Kennedy by forbidding "free association to the coaches, players, students, and parents who wanted to join" in prayer. Kaepernick, however, is now a hero — he can kneel anytime he wants to, apparently.
Watch Coach Kennedy discuss this double standard below – then tell us what YOU think in the below poll.
"I just want the same rights as everybody else" —Coach Joe Kennedy, who was fired for kneeling in prayer post-games, addresses @NFL protests pic.twitter.com/0F4ckVlayi

— Fox News (@FoxNews) September 29, 2017
The coach makes an excellent point.  Tell the NFL what YOU think below:
By providing your email to sign this petition you also agree to subscribe to the Patheos Red newsletter and other special offers from our partners.  You can cancel at any time!
Hat tip: The Federalist 
Image Credit: Screen Cap