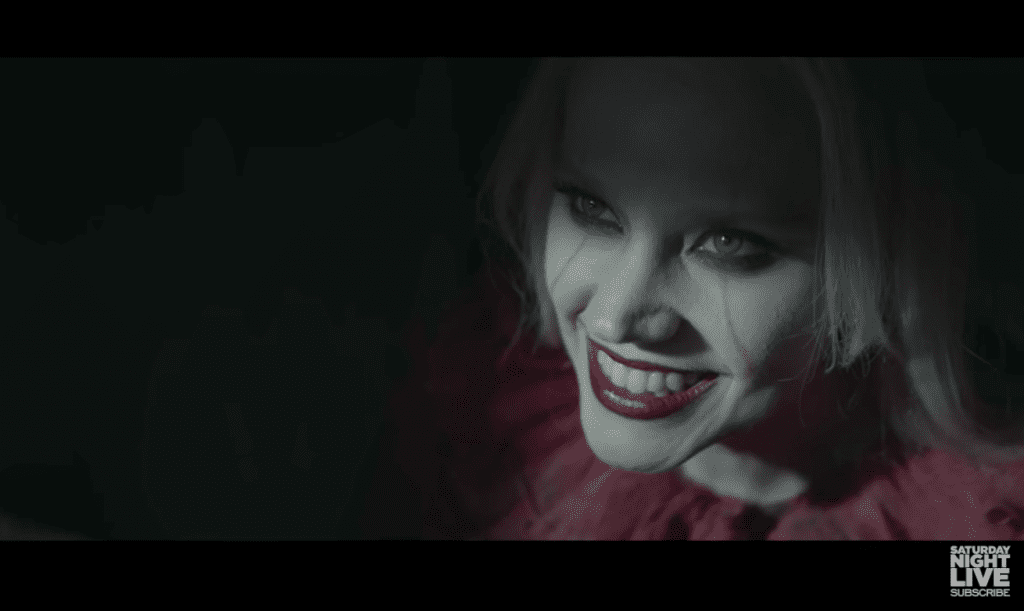 This weekend, Saturday Night Live skewered White House Counselor Kellyanne Conway, whom they depicted as Pennywise the clown from Stephen King's blockbuster horror flick "It." For the first time, Kate McKinnon portrayed Conway — and she did it in full clown as "Kelly-wise the Dancing Clown."  In the skit, "Anderson Cooper" (played by Alex Moffat) walked out of CNN's headquarters on a stormy night when his show notes washed into a storm drain.  When he bent over to try to retrieve them, he sees a horrifying visage of Conway.
"What did you do to your makeup?" he asks.
"I toned it down," she replies.

IJR describes what happens next:
"Kelly-wise," played by McKinnon, scares Cooper when he looks into the drain and then she tries to convince him to invite her onto his show, "Anderson Cooper 360." The skit ends with Kelly-wise transforming into Hillary Clinton and trying to lure Cooper into the storm drain with a free copy of her book, "What Happened."
I'm not sure what would be worse — being pulled into a sewage drain by Hillary Clinton or actually having to read her book.  What do you think?
IJR
also reports that:
For those following SNL ratings wondering why we are reporting metered markets, NBC is reverting to that currency and will no longer be ordering special live+same day fast official ratings as it has since SNL went live on both coasts last spring. The metered market results include live viewing on the East and West coasts without factoring in those who watched the 11:30 PM encore in the West.

While still below last year's big deliveries, SNL is starting to catch up, especially in 18-49. Last year's Week 3 episode, which did not air live on the West Coast, drew a 5.0 in households and a 2.3 in the demo.
The bottom line is that "SNL was the #1 telecast last night on the broadcast networks in both metered-market households and in 18-49 in the local people meters."  The site goes on to observe that "While other late-night shows are struggling after attacking Trump, it seems that "Saturday Night Live" has the opposite effect."
Watch it below:
Image Credit: Screen Cap