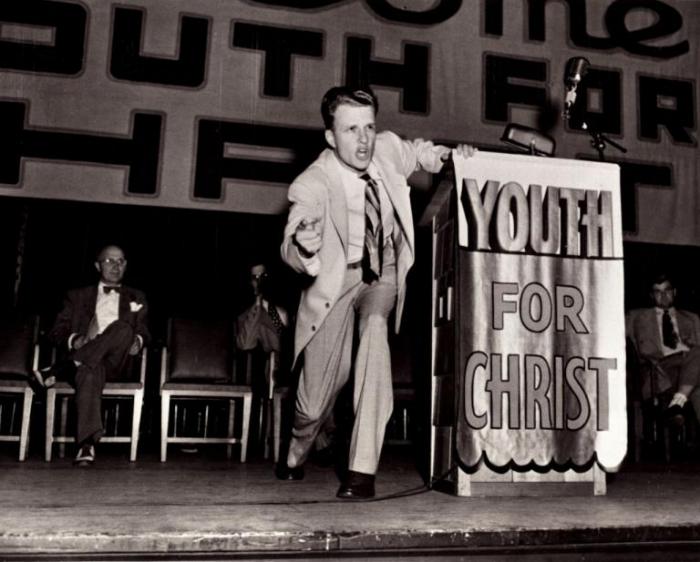 Bill Graham, often called "America's Pastor," passed away recently and America mourned his loss.  Christianity Today reported on his funeral:
After spending his life traveling the world to rally millions for Christ, Graham returned Friday to his hometown of Charlotte, North Carolina, where he was laid to rest following a celebratory and gospel-infused ceremony deemed his final crusade.

More than 2,000 guests—including 200 members of Graham's family, Christian leaders from 50 countries, and dignitaries such as President Donald Trump and Vice President Mike Pence—gathered at the funeral. Graham himself planned it out more than a decade ago, hoping that even his death could continue to point people to Christ.

Facing the Billy Graham Library's giant glass cross façade, the crowd packed into a 28,000-square-foot white tent meant to evoke the "canvas cathedral" where the evangelist held one of his first crusades in 1949 in Los Angeles.
His son Franklin Graham posted a photo of his father's tombstone, striking in its simplicity.
He wrote:
My father Billy Graham​ was laid to rest on the grounds of the Billy Graham Library yesterday, beside my mother. His grave marker is simple–a field stone etched with these words under a cross:

November 7, 1918 – February 21, 2018
Preacher of the Gospel of the Lord Jesus Christ
John 14:6
Billy Graham
Beautiful.  What a wonderful testimony of an amazing servant of God.
The name "Jesus" was mentioned only 15 seconds into Graham's ceremony.  In fact, he was mentioned a hundred times in the 90 minute event.  More from CT:
"Everyone who spoke was clear in their message. They honored his wishes by making this less about Billy and more about Jesus," Southern Baptist pastor Jonathan Falwell, who watched Graham and his father, the late Jerry Falwell Sr., discuss ministry over the years, told CT.
The world is a better place for Billy Graham having been in it!
Image Credit: PRO Richard Bromley on Flickr