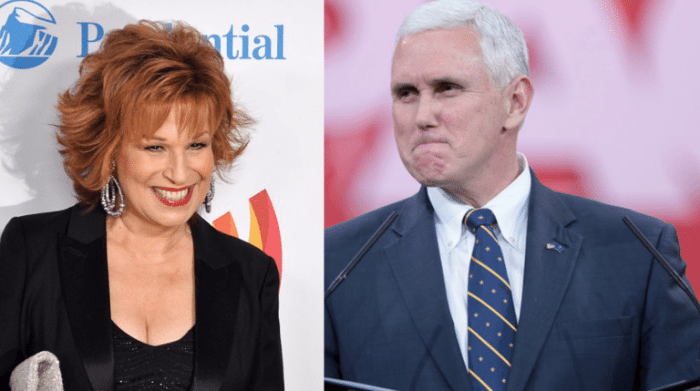 Well, this is nice. Recently, I wrote about how Joy Behar was incredibly rude to the Vice President. On The View, she and her fellow hosts were discussing former White House staffer Omarosa Manigault Newman who'd dissed Vice President Mike Pence.
"As bad as you think Trump is, you would be worried about Pence… everyone that is wishing for impeachment might want to reconsider their life," she said. "I am Christian, I love Jesus, but he thinks Jesus tells him to say things."
The ladies on The View decided to discuss this statement. Sunny Hostin said, "I think what's interesting is that she said Jesus tells Mike Pence things to say. He's not very popular at all. I think when you have a Mike Pence who now sort of puts this religious veneer on things and calls people 'values voters,' I think we're in a dangerous situation."
"Do we want our politics served to us with a religious veneer over them?" she asked. "This administration is not a values-driven administration."
Joy Behar said, "It's one thing to talk to Jesus. It's another thing when Jesus talks to you," before adding that "hearing voices" is a sign of mental illness.
Charisma News reports:
After Whoopi reigned in the conversation, she simply asked the panel if they would prefer Mike Pence or Donald Trump as president. The entire panel agreed that for different reasons they would prefer Pence as president, even Joy Behar and Sunny Hostin, who have previously complained on the show that Pence was "incompetent" and "misogynistic." Whoopi didn't give an opinion but has crazily claimed that Pence was like a member of the KKK who wanted to hang her on a tree, on a previous episode.
Well there's a nice update to this story. Disney CEO Bob Iger revealed that Behar personally called the Vice President and apologized.
"She made a call to him and apologized, which I thought was absolutely appropriate. I happen to take exception [to] what she said. I don't think it was right and I was glad to hear that she apologized."
Image Credit: By Nick Step (https://www.flickr.com/photos/nickstep/4437513200/) [CC BY 2.0 (http://creativecommons.org/licenses/by/2.0)], via Wikimedia Commons AND Gage Skidmore on Flickr