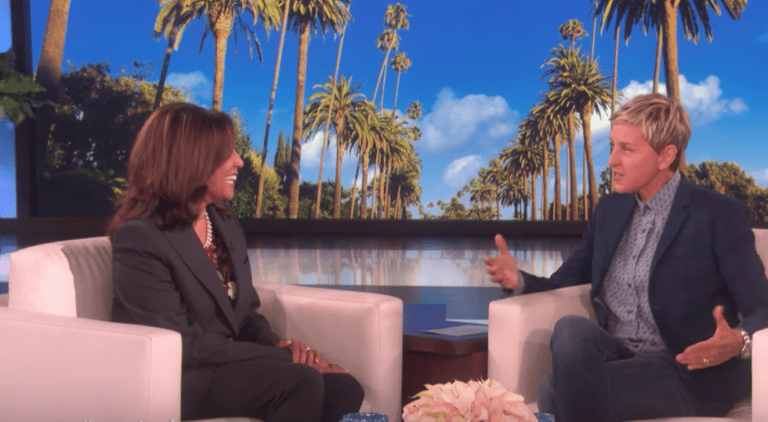 Kamala Harris is someone who's name is constantly mentioned as a possible 2020 Democratic contender for President.  The California Senator recently appeared on the talk show of Ellen DeGeneres  on Thursday, where she made jokes about President Donald Trump dying in an elevator.  NTK reports:
Host Ellen DeGeneres asked Harris, "If you had to be stuck on an elevator with either President Trump, Mike Pence, or Jeff Sessions, who would it be?"

The California senator paused before answering the question.

"Does one of us have to come out alive?" she responded, cracking up at her own joke.
This isn't the first time people have considered the possible death of the President amusing.
According to IJR,  the Secret Service interviewed the comedian Kathy Griffin after she posed with a disgusting bloody head that was supposed to represent the President of the United States. This caused outrage, and Griffin claimed that it ended her career.  It was really problematic because Barron Trump saw the gross image on television and thought it was real.  The Secret Service also investigation the comedian.  Other celebrities, including Snoop Dogg, Johnny Depp, Robert DeNiro, and others have evoked the death of the President as well.  Oh, and who can forget Rosie O'Donnell who, in July 2017, tweeted out a link to a game called "Push Trump Off A Cliff Again."
Mickey Rourke called him Trump a "big-mouthed bitch bully," and then bragged that he would just "love 30 seconds in a room with the little bitch."
Classy.
It is probably getting to be a tired exercise, but imagine what would have happened if people joked about the death of Barack Obama on national television.  I doubt people would think these jokes were oh-so-hilarious.  In fact, I think people would call that pretty irresponsible, don't you?
Watch the exchange below:
Image Credit: Screen Cap
Hat Tip: NTK Network