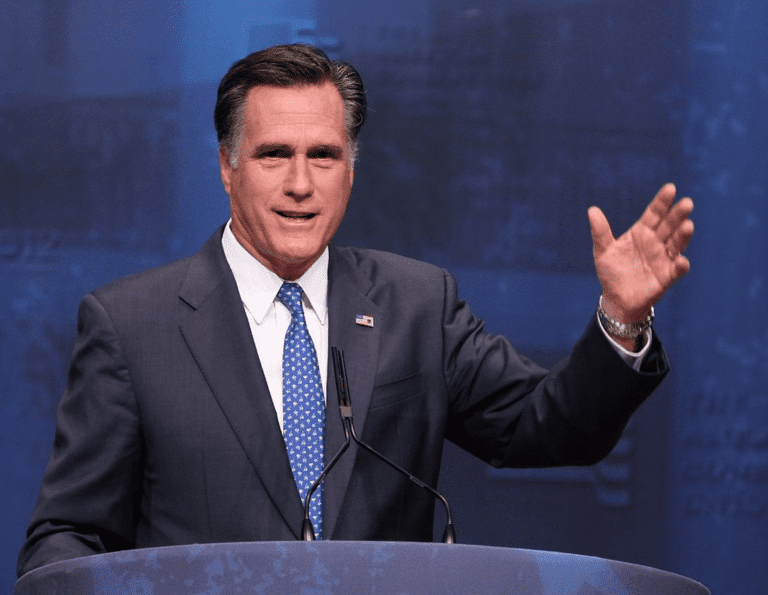 This was surprising.  Ever since Donald Trump was elected President, he has pushed the #FakeNews mantra down the collective throats of Americans.  The rift is well deserved, as the media frequently reports half truths, innuendo, and outright lies.  But the division between the country and reporters has fostered serious mistrust.  America really needs a well-functioning media to keep an eye out on our politicians, and Mitt Romney made sure to mention this at a recent rally.
Garrett Haake, an MSNBC correspondent who was assigned Romney several years ago, was recently the only reporter at an event at which Romney was speaking.  He wrote, "At a time when journalists are being attacked constantly for doing our jobs, I appreciated this closing remark from @MittRomney – at a public campaign event where I was the only reporter present – a great deal."
At the end of the event, Romney said, "I'm going to do one more thing…  I said I respect the Constitution.  I said I respect the Amendments, including the First Amendment.   When I ran for President, there was some poor guy who followed me over Iowa and New Hampshire."
Romney was describing Haake.  He then spoke directly to the correspondent, and asked which network he represented.
"NBC," Haake responded.
"NBC News," Romney said.  "Would you guys give a welcome to the First Amendment, to Garrett Haake of NBC News."
To Haake's surprise, the largely Republican crowd gave him a round of applause.
Romney continued.  "Look, I know the media doesn't always get it right.  But I also know when they get it wrong, they indicate they made a mistake and apologize for it."  He then went on to express appreciation of the First Amendment and people exercising that liberty…  even if he doesn't agree with them on various policy issues.
At a time when journalists are being attacked constantly for doing our jobs, I appreciated this closing remark from @MittRomney – at a public campaign event where I was the only reporter present – a great deal. More tomorrow. pic.twitter.com/HPGshT3yt6

— Garrett Haake (@GarrettHaake) May 29, 2018
Hat Tip: Twitter
Image Credit: By Mark Taylor (https://www.flickr.com/photos/n3tel/6854522965/) [CC BY 2.0 (https://creativecommons.org/licenses/by/2.0)], via Wikimedia Commons