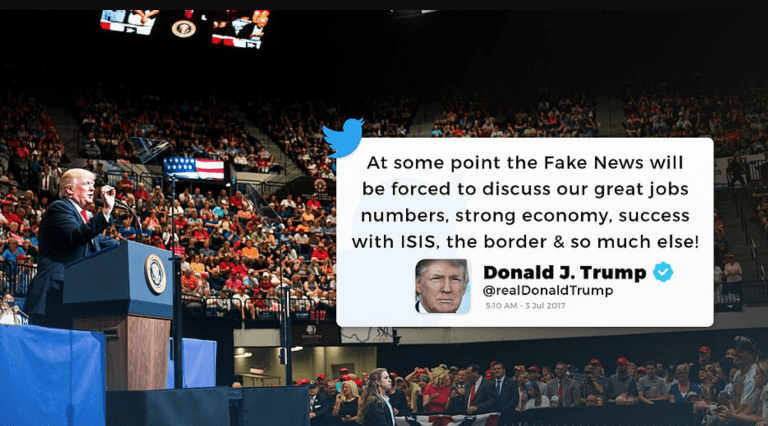 Ever feel like Donald Trump just loves to get under the media's skin more than anything else?
One of the things they just can't stand is the fact that they feel smarter than he is…  Yet, no one listens to their massive, ever-growing list of complaints against the President.  A new report suggests that he doesn't mind being underestimated, or mocked over his intelligence…  as long as it bothers the media.
The Boston Globe has the story:
White House staffers who sometimes compose President Trump's tweets intentionally include grammatical errors to mirror the president's style, The Boston Globe reported Monday.

The Globe, citing two people familiar with the process, reported that staffers will use hallmarks of Trump's own manner of tweeting, such as unnecessarily capitalized words and fragmented sentences.

Staff members reportedly do not intentionally misspell words or names.

It is generally known that Trump does not write all of his own tweets.
Imagine working at the White House and being willing to write something incorrectly, without fear of losing your job.  This seems like it's coming directly from the top.  Apparently, the staffers will write a few tweets which they present to the President to consider posting.  He approves the tweets which go out under his name on his account.  Only occasionally will a tweet be deleted due to more egregious errors.  The Boston Globe reports on once such case:
Twitter users were quick to mock the president on Saturday when he misspelled his wife's name upon her return from the hospital.

"Great to have our incredible First Lady back home in the White House. Melanie is feeling and doing really well," Trump tweeted, before deleting it and correcting it to Melania.
Yes, I would assume that sort of typo would not make for a peaceful White House.  The interesting thing about the whole piece is that the White House values irritating the national media over grammar.
Image Credit: By https://www.facebook.com/DonaldTrump/photos/a.488852220724.393301.153080620724/10159419638630725/?type=3&theater (Donald Trump) [Public domain], via Wikimedia Commons
Hat Tip: The Hill