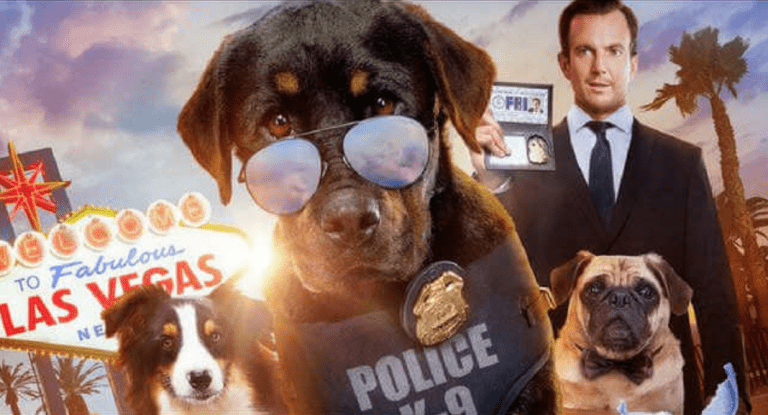 Usually when parents decide whether or not to take their kids to a movie, they check the ratings and that's about it.  Only when they are older do the truly disturbing themes emerge…  And then it takes a little more investigation.  Usually, if the movie is rated G and features, say, a talking dog, everything is going to be on the moral up-and-up.
But that was before the movie "Show Dogs," starring Will Arnett and Ludicris.
Terina Maldonado reviewed the film for the Macaroni Kid website:
"The premise is great for a kids movie.  Max is a talking police dog (voiced by Ludacris) who is paired up with a human partner, Frank (Will Arnett) to infiltrate a prestigious dog show and rescue a kidnapped baby panda.  Being a tough dog from New York, Max has no business competing in a dog show but uses his street smarts to outperform the competition to get closer to the inner circle of kidnappers.  Along the way, Max learns lessons about trust and the need to accept help from others.  The usual hilarity ensues with dog farts, bites on the rear-end, and slap-stick bonks to the head which elicit giggles from the audience. "
It's when Max the police dog has to go undercover as a show dog, things get bad.  He has to have his private parts inspected to "pass" as a show dog.  Maldonado writes:
"What could have been solely a fun movie for kids that would get my highest recommendation is damaged by a dark and disturbing message hidden, not so subtly between the fluffy dogs and glamorous parties of the show dog lifestyle.  As part of any dog show, contestants are judged on their abilities and physical attributes.  One part, in particular, is the inspection of the dog's private parts."
His partner Frank tells him to accept this process, but that's when things get really really dark and unacceptable.   Maldonado explains:
"Since the inspection of the private parts will happen in the finals, Frank touches Max's private parts to get him use to it.  Of course, Max doesn't like it and snaps at Frank for him to stop.  Max is then told by the former champion, who has been through the process before, that he needs to go to his "zen place" while it happens so he can get through it.  More attempts are made by Frank to touch Max's private parts, but Max is still having trouble letting it happen and keeps snapping at him."
Um…  what?  Jenny Rapson writes, "Max needs to get it together, see, and LET PEOPLE TOUCH HIS PRIVATE PARTS, or he might lose the competition and fail at his mission to rescue the kidnapped panda. Do you see what's happening here? Max's success is riding on whether or not he lets both his partner (for practice) and a stranger (the competition judge) touch his private parts.  IN A KIDS MOVIE. WHAT??? Newsflash, folks: THIS IS CALLED GROOMING and it's what sexual predators do to kids!"
I am so glad I haven't taken my kids to see this!  Here's the climactic scene of the movie — so spoiler alert:
The day of the finals come and if Max doesn't let his private parts be touched, he may lose the competition and any hope of finding the kidnapped panda.  It all rests on his ability to let someone touch his private parts.  The judge's hands slowly reach behind Max and he goes to his "zen place".  He's flying through the sky, dancing with his partner, there are fireworks and flowers-everything is great-all while someone is touching his private parts.
This makes my stomach turn.  We should not be taking our kids to the movie to learn that it's great to let strangers touch their genitals.