In case you hadn't noticed, or perhaps you forgot, Pope Francis will be arriving in the Washington DC tomorrow, his first Apostolic Journey to the United States. Here are 10 things to bear in mind ahead of his arrival.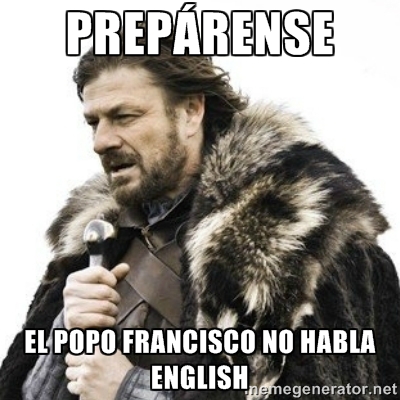 10. That he's addressing Congress in Spanish doesn't mean he favors illegal immigration or NAFTA.
9. Pope Francis won't be endorsing your presidential candidate.
8. Pope Francis won't be ex-communicating the Supreme Court, Nancy Pelosi, Joe Biden, etc., etc.
7. Pope Francis won't be appearing on any of the late night talk shows.
6. That he's meeting President Obama doesn't make him a Marxist.
5. That he's speaking to the UN doesn't make him a New World Order globalist.
4. That he's attending a multi-religious service at Ground Zero doesn't mean he believes in syncretism or is jonesing for a One World Religion.
3. That he's meeting with Catholic Charities doesn't mean he supports contraception or abortion.
2. None of the major networks or cable news programs covering Pope Francis' have a clue on how the Catholic Church works.
1. Catholic doctrine will be described as "policy".