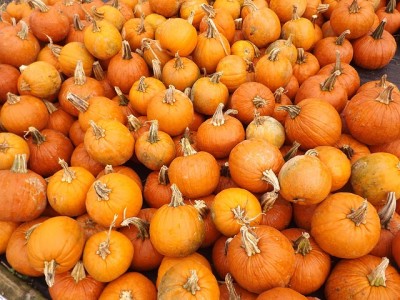 (AoftheANews) MUSKEGON – Beginning the first Sunday in October, members of Our Lady of Good Housekeeping parish in downtown Muskegon will recognize a particular fragrance when entering the church for Mass – and it won't be the traditional incense. Rather, parishioners will be greeted with a pumpkin-spice aroma, as communion hosts will be infused with the scent.
"It was an idea cooked up by our Liturgy & Marketing Committee," Fr. Cole Loughn, pastor of OLGH told AoftheA News. "Pumpkin spice flavored goods are all the rage right now – so how can we tap into that energy, and give our parishioners a unique experience? They felt this was the way to go – and who am I to argue with a committee of liturgists? I'm just the pastor."
"We believe this is a fantastic way to establish our brand in the marketplace," L&M Committee chairperson Paul Purri said. "We'll be offering communion in the traditional unflavored host as well as the Pumpkin Spice Host. Come Advent, we'll be rolling out two infused hosts, Gingerbread and Peppermint. We're still testing infusions for Lent. But we're excited, let me tell you!"
Mass attendance is expected to increase as news of the flavored hosts circulates throughout the diocese. "We have plans to advertise at area cider mills, pumpkin patches, and Dunkin Donuts," Purri said. "This is our way of bringing the New Evangelization to the community."
Image via Pixabay
Don't miss anything from Acts of the Apostasy – like AoftheA's Facebook page!