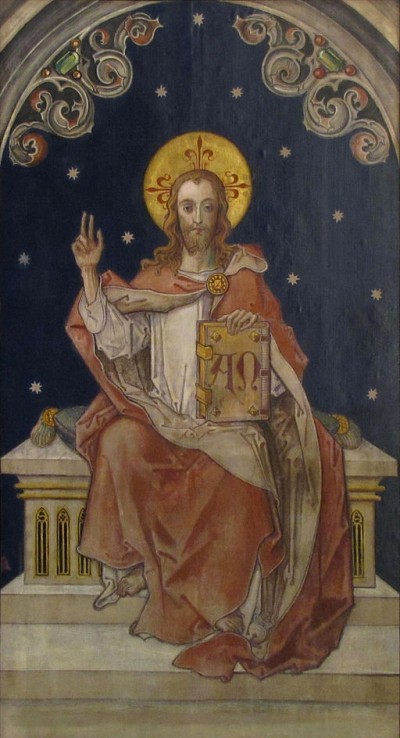 November 22, 2015: Solemnity Our Lord Jesus Christ, King of the Universe – John 18:33-37
Pilate said to Jesus,
"Are you the King of the Jews?" 


Jesus answered, "Do you say this on your own




or have others told you about me?" 




Pilate answered, "I am not a Jew, am I? 




Your own nation and the chief priests handed you over to me. 




What have you done?" 




Jesus answered, "My kingdom does not belong to this world.




If my kingdom did belong to this world,




my attendants would be fighting




to keep me from being handed over to the Jews. 




But as it is, my kingdom is not here." 




So Pilate said to him, "Then you are a king?" 




Jesus answered, "You say I am a king. 




For this I was born and for this I came into the world,




to testify to the truth. 




Everyone who belongs to the truth listens to my voice."
Who's your king? Whom do you serve?
Two kings in juxtaposition. Pilate represents the kings of Earth – past, present, and future. He appears to possess all the power and influence. He represents Caesar and the Roman Empire. His subjects swear allegiance out of fear and respect. He commands the military, he rules with authority. Christ seems powerless and weak, humiliated and scorned. Betrayed by one of his friends. Denied by Peter. Abandoned by nearly the rest. "My kingdom does not belong to this world," He tells Pilate. The King of the Universe, raging war according to terms that Pilate could not understand.
Armies overcome other armies. Nations defeat their enemies. Kings go to war to subdue other kings. Our King, Jesus Christ, has defeated our enemies – sin and death – by doing what no other king had ever done, nor will ever do: He died so that we might live. He overcame our enemies, not by bearing arms, but by spreading His arms upon the cross. His scepter was the lash, His crown a weave of thorns. Through His suffering, Christ demonstrated how rule in His kingdom would be: "No greater love has a man than this – to lay down his life for his friends."
Who's your king? Whom do you serve?
There are many kings in the world: Power, Glamour, Prestige, Fame, Wealth, Sex. Countless more. At first, they seem benevolent and worthy of service. Much is promised if they are dutifully served, but the promises are empty. Worship at their altars leads to sadness, isolation, and disillusionment. These kings quickly become cruel and capricious, because their demands can never be satisfied. They take, but never give. They feed on their subjects, and then discard them for others who eagerly enter their throne room. Those who serve these kings soon become slaves. Enslavement to these kings leads to the very things our King already defeated: sin and death.
Christ the King offers none of those things. Worship at His altar leads to nourishment of body and soul, as He freely offers His flesh and blood. He has promised that we will have treasures stored in Heaven. He has gone to prepare a place for us. He came so that we might have life in abundance. He shares our burdens, because He has already suffered for our sin. He collects no taxes, exacts no dues. We died with Him in our Baptism, and were raised to new life with Him as members of His kingdom. And not merely as members, but as His friends. These other kings, they have neither desire nor capacity for friendship. Friendship demands sacrifice, and they refuse to sacrifice anything for those who serve them.
Who's your king? Whom do you serve?
Our King knows and loves each person in His kingdom. Individually. These other kings, they neither love nor care. People who start out loving them swiftly come to despise them. We only know of Pilate because of his encounter with Christ. Were it not for that exchange on that Good Friday, Pilate would be less than a footnote in the annals of time.
Christ loves each of us – even those not in His kingdom. As King of the Universe, how could He not? Those of us who serve Him – we've taken on the mission to make His kingdom present in the world. To bring His love, mercy, and peace to those enslaved by these other kings. We follow in His footsteps, by being merciful to others. By committing acts of self-sacrifice, with a radical abandonment to love. By forgiving others, 70 times 7 times. By laying down our lives for our friends. By sharing the Good News, offering freedom to those enslaved by those other kings.
I serve Our Lord Jesus Christ, King of the Universe. Not as faithful as I should, and not as well as I could. Though I fail, Christ will never despise me despite my weaknesses, nor refuse me His mercy when begged for. "Come to me, all you who are weary, and I will give you rest."
Who's your king? Whom do you serve?
Image source: Rh-67 [Creative Commons] via Wikimedia
Don't miss anything from Acts of the Apostasy – like AoftheA's Facebook page!