It is a pleasure to welcome to my blog, Greg Haslam, who is the current successor to Martyn Lloyd-Jones at Westminster Chapel in London.
Adrian
To begin with Greg, can you tell us a bit about yourself?
Greg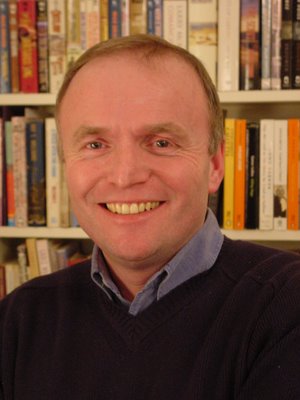 I am a 'scouser,' born in Liverpool in 1953, who lived in a rough area of the city called Bootle (where the kids played 'tic' with hatchets). I came from a broken home, with much sadness due to my parents' marital breakdown and eventual divorce when we children were still very young. It was persistent school friends who later told me fully about Christ. I attended a Billy Graham big-screen Gospel crusade relay to Liverpool on June 30, 1967, and after a big emotional struggle with doubt and many fears that Christ would not have me (the scars of rejection were still there from the break-up of my parents' marriage and the lack of a father's love), I came to faith in Christ that night. That was 40 years ago! My whole world and life-direction dramatically changed, and interest in theology was stirred soon after with input from my new Baptist church radical youth leaders. Two years later, at the Keswick Convention, listening to a fairly young John Stott on II Timothy (four hours of amazing teaching), I felt the call to become a preacher. This started, remarkably, within twelve months of that Keswick convention in that I was invited to preach at an independent Methodist church and became a regular on their circuit as a 'the boy preacher' on a Honda 50!
Not long after, I met and married my wife, Ruth, and we now have three amazing adult sons who are all serving Christ. The eldest two, James and Andrew, are marred (a doctor and a pastor) and the third, Joshua, is studying Philosophy at UCL. We have one gorgeous granddaughter from James and Emily. Andrew has just started work at the Chapel leading our 18's to 30's ministry.
I studied Theology and History at Durham and the London Theological Seminary (Dr. Lloyd-Jones' new venture in ministerial training), and I became pastor of Winchester Family Church (later to be part of Newfrontiers) at age 27. I stayed there for twenty-one years until my move to Westminster Chapel in 2002. My interests include all kinds of books (of course!), movies (especially gritty westerns, war movies, and thrillers), good food, good music, philosophy and culture, apologetics, writing, speaking, and motorcycling.
Adrian
How did you come to be preaching in one of the world's most famous pulpits? What was the journey like? What is it like to be the successor to men like Dr. Martyn Lloyd Jones and Dr. R. T. Kendall?
Greg
My journey as a pastor in Winchester (1980—2002) was a hard learning curve which included making the transition from hard-line Reformed theology that either ignored the Holy Spirit to a criminal degree or resisted him; through my own experience of baptism in the Spirit, desperation for change in the church I pastored, a fresh vision of what church can and ought to be; to the embrace of a full-blown Word and Spirit theology and ecclesiology, along with an optimistic post-millennial eschatology and a restorationist/revivalist view of the Gospel of God's kingdom with its total world and life view.
Westminster Chapel's fame worldwide is deservedly based upon its ministers' loyalty to Scripture and faithful declaration of it, an influence that has spanned the world throughout the 20th century. My predecessor, Dr. R. T. Kendall, wrote to me in late 2000. He was looking for a successor who was 'a preacher, Reformed, open to the Spirit, and pastoral in heart' (PROP for short!). He was convinced I was the man. I was very happy where I was in Winchester, but I dared not ignore the 'call' that was coming to me to consider a move. I instantly felt that God's hand was upon this. Unfortunately, key figures in the Chapel were not all convinced! There was resistance to having a Newfrontiers man there. The exploration process took a whole year. That year, God gave me over fifty personal prophecies that made it clear I would be going there, mostly from men who knew nothing about what was afoot. I also experienced some very special days 'preaching with a view' at the Chapel. I guessed God knew that I would need this level of divine affirmation! I was eventually called. This meant that with great sadness for both myself and my wife, we had to leave Newfrontiers to do this as the Lord had told me that this was 'For the sake of my wider kingdom purposes in London and beyond.' It's been an amazing five or so years since!
I've always worked hard, but this job has taken over my life! I preach more than ever, write, travel significantly, and have faced the challenge of trying to build a New Testament style church in what has historically been known as a 'preaching center'. Building a true Gospel-centered community of Word and Spirit authenticity has never been easy in commuter-congregation, metropolitan churches, but the task is God's will for this church. We have seen many new people join us and great changes in the feel, direction, joy, and sense of Holy Spirit-filled community among us. People have been saved and lives transformed. Many young people have joined us, bringing the average down by perhaps 25-30 years less.
Adrian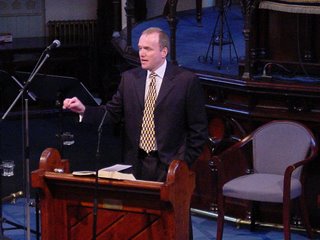 Most people still associate the pulpit of your church with men like R. T. Kendall and Martyn Lloyd-Jones, who preceded you. What does it feel like to try and fill their shoes?
Greg
I've never tried! I believe they wore different sized shoes to me! My shoes are the only ones I'm called to wear. I have to avoid imitation and be true to the man God made me to be. The advice of a black preacher to trainee preachers comes to mind: "Be who you is, 'cos if you ain't who you is, then you is who you ain't!" I abhor artificial imitation of others in their style and content. God doesn't clone preachers, and each of us is a unique creation with a unique voice. So I try to remain secure in the style and approach I take. I am second to none in my love for and admiration of my predecessors, and I am discovering just how great Dr. George Campbell-Morgan was, too! I have read nearly all of Lloyd-Jones and Kendall's books and owe them a huge debt, but I know they would be the first to advise me to 'Just be yourself!'—and that's what I intend to be. I am presently hearing much from God about his vision for the Chapel's future. I think both the Doctor and RT would be very pleased, because I'm convinced that something like it is what they both wanted, but never saw.
Continued in part two, "Greg Haslam On Leaving Newfrontiers for Westminster Chapel."
To find out more about Greg Haslam, visit Westminster Chapel's website, or download mp3s of conference messages by Greg Haslam.