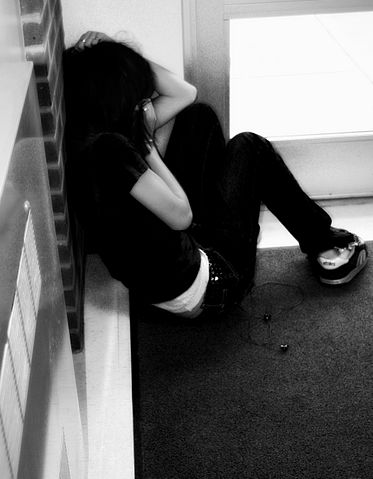 All over the English speaking world today, as a result of the tragic death of Rick and Kay Warren's son, many will be having conversations about mental illness. I thought I would write a short series of posts reflecting as a Christian psychiatrist on some of the questions people will inevitably ask.
Proverbs 15:13
A glad heart makes a cheerful face,
but by sorrow of heart the spirit is crushed.
The first question, today, is incredibly easy to answer. Can a Christian get depressed? The answer is a resounding, YES.
But being a blogger, I will of course want to say more than that. So why do some people feel Christians can't or at least shouldn't get depressed?
Some argue that a Christian should be able to reject depression "by faith." Many would disagree with applying that notion to physical illness. Truth be told, we all know that Christians get sick. I have never heard of a "faith healer" who is 130 years old. Every great Christian of the past eventually succumbed to some illness or other. You do not simply die of old age.
As soon as we accept that Christians can get sick, we must acknowledge that they can get depressed too. Depression, like Bipolar Affective Disorder, Schizophrenia, Schizoaffective Disorder, and a number of other psychiatric conditions, is a real illness.
We may not understand mental illnesses as well as some other conditions. Our treatments may not always work. But there is much evidence that a physical cause is at least part of the picture. For example twins raised apart are more likely to get depressed if the other twin does, especially so if they are genetically identical.
The burden of having a mental illness is at times very hard to bear. Christians must learn to ease that weight for others. Too often churches will instead add to sufferers a sense of guilt that they "ought not" to be feeling that way.
The Gospel promises "joy unspeakable and full of glory" (1 Peter 1:8). So how can we still be sorrowful? The gospel also promises a life free of sin and sickness. But we know that all these promises are only fulfilled in part in this earthly existence. Jesus himself taught us to pray "your kingdom come, your will be done, on Earth as it is in heaven" precisely because it often isn't done here. Even a Calvinist must accept that much happens here on earth that is contrary to God's revealed will, his pleasure.
Paul spoke of the paradox of the Christian experience in 2 Corinthians 6 where he describes himself as "sorrowful yet always rejoicing." The Christian may have a complex emotional state where the joy of knowing forgiveness battles with unquenchable depression, and the hope of eternity wrestles with despair.
One time Paul said of himself, "I have great sorrow and unceasing anguish in my heart" (Romans 9:2).
It doesn't take much reading of the Psalms to discover that King David and other psalmists had times when they suffered from severe depression. See for example Psalms 6, 30, and 31.
One message of the Bible, and the Psalms in particular is that depression does have an end point. Mercifully for most who suffer in this way, there are seasons of low mood that eventually give way to periods of resolution. We see that in the Psalms with such statements as,
"Weeping may tarry for the night,
but joy comes with the morning" (Psalm 30:5).
But, as we saw in the tragic case that prompted this post, while that statement is generally true, it is not true in every case. Or at least it is not always true in this lifetime.
Theologians sometimes talk of an "over realised eschatology." This happens when we take benefits of the gospel which are promised for us in eternity, and assume that they will be available completely for everybody today. God does heal depression in this life. But he doesn't heal everyone. He does, however, promise a future where,
"He will wipe away every tear from their eyes, and death shall be no more, neither shall there be mourning, nor crying, nor pain anymore, for the former things have passed away" (Revelation 21:4).
That is a glorious promise for every Christian who is affected by mental illness. Note that the repercussions of the disorder affect everybody who has a connection with someone who has mental illness. These are diseases that affect society, not merely individuals.
Time does not permit me to speak at length about some of the many examples of great Christians throughout the ages who have suffered from depression. Two that spring to mind are William Cowper and Charles Spurgeon. I refer the reader to Piper's excellent biographical talks on each of them which explain the role depression had in their lives. Of Cowper, Piper says:
From the standpoint of adventure or politics or public engagement his life was utterly uneventful. The kind of life no child would ever choose to read about. But for those of us who are older we have come to see that the events of the soul are probably the most important events in life. And the battles in this man's soul were of epic proportions.
The Christian does not merely accept depression as an inevitable part of life. He recognises it as an alien invasion, like sin and all other sicknesses. He fights it with all his might. But he can and should seek help from others. And he should know that for the Christian, depression will one day be defeated. And so, we pray, "Lord do today what you have promised that you will one day do!"
Learning to pray that way means we are not like stereotypical caricature of the Muslim who says "inshallah" and simply accepts everything as fate. Or as it could be loosely translated "whatever will be will be!" No, we are not meant to be stoics.
We must face the fact that there is much about this world that is not right. And we must fight it, both in our own lives, and in helping to rescue others from the grip of everything that God did not intend for us. And we pray. We pray in hope that the God who promised that he will deliver us forevermore can and does give us foretastes of that deliverance here and now. And we rejoice with those who experience such supernatural touches of God. And we rejoice with those whose healing comes by the God-given skills of doctors. And we are compassionate towards those for whom it seems that in this life at least there will be no relief.
The Bible is not ignorant of depression. It is not embarrassed to speak of it. God understands. For the one who inspired every word was tempted as we are. And, as we are reminded every Good Friday, Jesus himself on the cross became familiar with sorrow. He carried our depression, so that we would be delivered. In the meantime, although our troubles may be severe, he promises to be with us in them.
Mental Illness and the Christian More Posts: