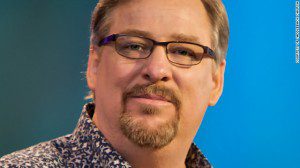 The Christian and secular media are reporting the tragic news that Rick Warren's son has taken his own life after a lifelong battle with mental illness.
The Warrens will be grieving and in terrible distress right now. Every Christian reading this should please offer a prayer of support on their behalf.
At times like these the love of friends and family will be a great support to them, but will not take away the pain. Rick and Kay need the love of Jesus to be especially real to them at this difficult time. Please pray this for them.
Even with such support in prayer, they will of course still mourn. We do grieve as Christians, but we greive differently to those without hope.
Many of you will not know that I am a psychiatrist by training, and still work in that field (although I no longer have direct patient contact). As such I know the devastation that mental illness can bring in its wake only too well.
We live in a fallen world. Rick's son reportedly received some of the best interventions medical care can offer. Sometimes that is not enough.
Please, if someone you know and love is suffering in a similar way, don't let anyone persuade you not to reach out for everything medical science can offer. In many cases it can be literally life saving.
Too many of us don't understand just how serious these illnesses are. I pray that this shocking news may help thousands realize that although faith may be protective in such situations, medicine is often also needed to help.
I will be posting a series on the questions that this event will inevitably pose in our minds and will list them here:
The Warren's public statement is deeply moving:
The 27-year-old son of Pastor Rick Warren has taken his own life after a lifelong struggle with mental illness. The internationally known Christian leader at Saddleback Church in Lake Forest, California, made the announcement about his son early Saturday morning in an email sent to his staff.

"No words can express the anguished grief we feel right now. Our youngest son, Matthew, age 27, and a lifelong member of Saddleback, died today," wrote Warren.

"Over the past 33 years we've been together through every kind of crisis. Kay and I've been privileged to hold your hands as you faced a crisis or loss, stand with you at gravesides, and prayed for you when ill. Today, we need your prayer for us," began the staff email from him.

Warren described Matthew as "an incredibly kind, gentle, and compassionate man," as those who grew up with him would also say.

"He had a brilliant intellect and a gift for sensing who was most in pain or most uncomfortable in a room. He'd then make a bee-line to that person to engage and encourage them," he continued. "But only those closest knew that he struggled from birth with mental illness, dark holes of depression, and even suicidal thoughts. In spite of America's best doctors, meds, counselors, and prayers for healing, the torture of mental illness never subsided. Today, after a fun evening together with Kay and me, in a momentary wave of despair at his home, he took his life."

Warren said that he and his wife often marveled at Matthew's courage "to keep moving in spite of relentless pain."

"I'll never forget how, many years ago, after another approach had failed to give relief, Matthew said, 'Dad, I know I'm going to heaven. Why can't I just die and end this pain?' but he kept going for another decade," he wrote.