This past Sunday I preached on Faith from 2 Kings 4 at Jubilee Church London's Wood Green site. Here is the audio, the notes follow.
In some circles today we can over-react to certain extreme teachings and feel nervous about even talking about faith, but as Hebrews 11 tells us, without faith it is impossible to please God! We must believe that he exists and that he rewards those who seek him. So, if you are eager to please God, finding out about and pursuing faith is a vital thing to do.
1. COMMENCEMENT of FAITH: Making room for God v10
She sees the man of God and makes room for him (and hence God) in her life
Salvation is often a small decision, people may not be clear of the implications, you can be saved on a fragment of truth.
Sometimes all that is said is "Come into my life, Lord Jesus!"
The basic gospel message simple: Romans 10:9 "If you confess with your mouth that Jesus is Lord and believe in your heart that God raised him from the dead you will be saved"
Thus all that is required is a true acknowledgment of the divinity of Jesus, a willingness to follow him, and a belief that he rose again.
A Christian is someone who believes in the resurrection of Jesus and lives in light of the implications of that event
Sometimes people start coming to church without immediately giving themselves to God….give them time. This is why Alpha works.
Things often begin slowly! Eg Jubilee Church, began with a small handful of people. Early days slow growth, foundations laid, check you are doing right thing, but then trust God.
Don't despise days of small beginnings. This is a principle in your life, your church, or any endeavor undertaken for God
"One day" over time becomes regularly, and so faith grows to the next phase:
2. Contentment of Faith : RESTING and trusting him in all situations

What began as an occasional thing, was now a regular. Taken more steps towards God, he comes running to you (eg prodigal son) Come to church every week not when you feel like it, for example.
God begins to come to us saying, "what can I do for you?"
The lady replies by saying essentially that she has become content with her circumstances. "I dwell with my people" v13
"I have learned the secret of being content in any and every situation, whether well fed or hungry, whether living in plenty or in want. I can do all this through him who gives me strength. " Phil 4:12-13
True contentment is very rare! We want "just a bit more" money, or we want a wife, or we want a husband or a child or a new job or home or car or Apple device "then we will be happy!"
NO, happiness comes from within, and most of all from knowing that God is your treasure. This leads to a stillness, a calm about you:
O LORD, my heart is not lifted up;
my eyes are not raised too high;
I do not occupy myself with things
too great and too marvelous for me.
But I have calmed and quieted my soul,
like a weaned child with its mother;
like a weaned child is my soul within me.
O Israel, hope in the LORD
from this time forth and forevermore.
(Psalm 131 ESV)
This phase of faith can be described as "resting faith" It is built on the foundation of God's goodness and faithfulness AND SOVEREIGNTY:
"And we know that for those who love God all things work together for good, for those who are called according to his purpose." (Romans 8:28 ESV)
"Ascribe greatness to our God the rock, his work is perfect and all his ways are just, a God of faithfulness and without injustice, good and upright is he!" (Deuteronomy 32:3-4).
God is so dependable that even "if we are faithless, he remains faithful, for he cannot deny himself" (2 Tim 2:13)
ROMANS 8 God turning ALL THINGS FOR GOD
Ultimately this leads to the faith of Joseph who can say to his brothers "you meant this for my harm, God meant it for my good"
The fullest example of this is how God used the death of his son to save the world. If he can do that, how much more your circumstance!
BUT IT IS NOT PASSIVITY OR APATHY
NOT WORRY EITHER!!!! Many people PRAY like they are WORRYING OUTLOUD!
Elisha then promises her a son. She doesn't really expect anything from God. One translation of her response v16 is "don't get my hopes up" = job description of the prophet.
That which she had closed the door on in her mind. God opened! How often are we reluctant to believe God will do anything for us?
God is the miracle-giver!
But this is not the end of the story…this faith of hers was about to be tested more than ever before!
Like Job we can react to tragic circumstances with trust.
Jesus promised us troubles in this world…but we don't name and claim that promise!
"Full of grief she was, for she had lost her son; but she had a hope left, for she had not lost her faith.
Her repeated phrase "It is well" contains the resignation of resting faith without that when disaster strikes our faith is destroyed.
Horatio Spafford's son died, then few months later, ruined by Chicago Fire, sends wife and 4 remaining daughters on ahead back to Europe, ship sank, wife was "saved alone." How did he reply? Like Job. He chose to trust God and wrote:
"When peace like a river, attendeth my way,
When sorrows like sea billows roll;
Whatever my lot,
Thou hast taught me to say,
It is well, it is well, with my soul."
BUT, The lady's subsequent actions demonstrate that faith is more even than this. We now see the next phase of faith:
3. Expectancy for God to act
We see now the distinction between ACTIVE and RESTING faith
Note that without the foundation of RESTING faith, active faith will be flimsy indeed, and if God doesn't answer the prayer, we will collapse in a heap! Many Christians never move beyond resting faith, but many Christians are too quick to only focus on this active faith.
The God who brought life, could restore it! Faith GROWS with experience of God responded to correctly:
By faith "Women received back their dead by resurrection" (Hebrews 11)
"It is well" is a bold prophetic declaration, and it is one we can all make (without failing to face the facts as Paul describes Abraham as doing)
She wasn't lying, or confused, she just had another perspective
We KNOW that one day it will all be well!
God will complete what he started
If we trust that God will make all things right in the age to come, why should he not in this one?
Powers of age to come are breaking through!
GOD is in the business of resurrections! Its his trade. He has a monopoly
When you have a plumber in your house you expect your water will be fixed! If it isn't you are surprised
When God is in the place, you should expect a blessing and be more surprised if there isn't one!
This is why we speak of the problem of suffering….I think some times western Christians have more of a problem with healing or blessing!
Being a CHRISTIAN IS LIKE WALKING IN STRONG WIND….LEAN INTO IT…ie FORWARD TILT not stand straight or blowed over!
To conclude:
"Therefore do not be anxious, saying, 'What shall we eat?' or 'What shall we drink?' or 'What shall we wear?' For the Gentiles seek after all these things, and your heavenly Father knows that you need them all. But seek first the kingdom of God and his righteousness, and all these things will be added to you." (Matthew 6:31-33 ESV)
If you have settled in your heart that God comes first, if you have settled in your heart that you will trust him WHATEVER happens, you can then implor him to act, and expect the unexpected!
"Ask, and it will be given to you; seek, and you will find; knock, and it will be opened to you. For everyone who asks receives, and the one who seeks finds, and to the one who knocks it will be opened. Or which one of you, if his son asks him for bread, will give him a stone? Or if he asks for a fish, will give him a serpent? If you then, who are evil, know how to give good gifts to your children, how much more will your Father who is in heaven give good things to those who ask him! (Matthew 7:7-11 ESV)
Where are you in these phases? Resolve to take the next step TODAY
Make room for God
Trust Him
Dare to believe he will act for you today!
---
Listen to Adrian's Podcast
Interviews, personal reflections, meditation, debates, sermons, training
---
Coming soon (God willing) : the rest of the series "Jesus Commands"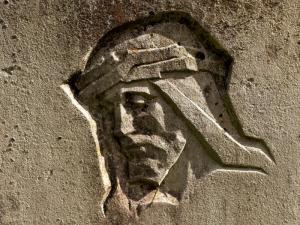 Jesus said that if you obey him your life will be established on a firm foundation when the storms come.

Follow the link to read all the articles, or subscribe to our newsletter to be notified as they are published.

Complete the form in the top of the right hand column, or below if you are visiting on a mobile device.