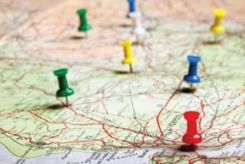 The proliferation of multisite churches in the USA continues to increase. It is a trend that is also beginning to take a hold here in the UK. The basic idea for those who may not be aware is that a growing church which finds it doesn't have space for its congregation plants a site nearby that shares all the resources of the original church. In fact the new congregation is considered part of the original. It is one church, multiple sites.
It seems from the rapid adoption of this model that given the right circumstances planting a multisite is faster, less risky, less of a drain on leadership, and less costly than traditional church planting.
Ed Stetzer shares some research findings that may startle you:
Multisite churches reach more people than single site churches.
Multisite tends to spread healthy churches to more diverse communities.
Multisite churches have more volunteers in service as a percentage than single site.
Multisite churches baptize more people than single site.
Multisite churches tend to activate more people into ministry than single site.
One of the many reasons for this benefit is that a large church tends to gather Christians from an ever-increasing area. Christians are very prepared to drive up to half an hour or even more to a church that is feeding us spiritually. But, it is hard for such commuting Christians to invite their non-believing friends to attend church or alpha courses miles away.
Thus, if a multisite service can be set up that does not leave members feeling "short-changed" from the original church, they will be glad to attend (after all its closer and more convenient for them). But more importantly, by attending a more local congregation, Christians will also find it easier to invite their friends.
This model often leads to dramatic growth in numbers, and to a release of ministry to serve the sites. Each site will need a pastoral team, a worship team, a welcome team, children's workers, stewards, etc.
There seems to be so many advantages to this model that in some cases churches which are facing a slow but relentless decline have chosen to be adopted by a growing church and re-emerge as a new site.
A multisite model takes advantage of the spiritual momentum, blessing, and authority of a church that is experiencing a season of growth. It can become an incubator of healthy church life. Leaders who are not called or equipped by God to be a solo pastor may in some cases flourish as a site leader. Site leaders get to focus most of their energies on pastoring the flock rather than the relentless pressure of preparing a sermon every week. Most site leaders do preach themselves from time to time, but many are glad this is not so regular that it becomes a burden.
To be honest so far as I have been examining this phenomena I see few drawbacks to it. Like any model, it is no panacea. Also it must only be used in certain circumstances. I cannot see how going multisite could actually produce momentum that is currently lacking in a church, for example. But if the choice is between building a new mega-facility at mega-cost or starting a new site down the road, I can see why many wise pastors are choosing the latter.
If you are interested in finding out more about this model, I found an interesting short article from sermoncentral where I also found the graphic for this post. The book everyone refers to on this subject is The Multisite Revolution. I've not yet read it myself but hear good things about it.