This week, I will be sharing some sermons that I preached earlier this year and didn't get round to posting on my blog. I thought I would begin with a seasonal sermon that I preached just this morning at Jubilee Church's Wood Green site, The message was based on Luke 1:26-55.
What is Christmas?
-A happy time of year in the middle of the cold dark winter…celebrating with lights
-A time where a lot of food is eaten
A time where family comes together
-A time where gifts are given
It can be a hard time for many, especially if relationships with family are hard, or for single parents. Easy to demonize single mums, but they are the parent who chose to stay and who chose not to abort their child.
Everyone assumes that other people's families are perfect. Trust me they are not. You don't get to choose your family, but it is to our credit to accept them warts and all.
It is fascinating to me how at the time of family celebration, the Christmas story focuses on an unmarried pregnant teenager. We can read back into the story and think everything was fine for her. But the reality was she lived at a time when people who committed adultery could get stoned. It is a remarkable thing that she escaped with his life.
A. The favour of God
God has always come to individuals to bless them, so that others can be blessed. In one sense nothing special about her. If there was anything special it was in her response to God. God choses people through unmerited favour, grace, and mercy.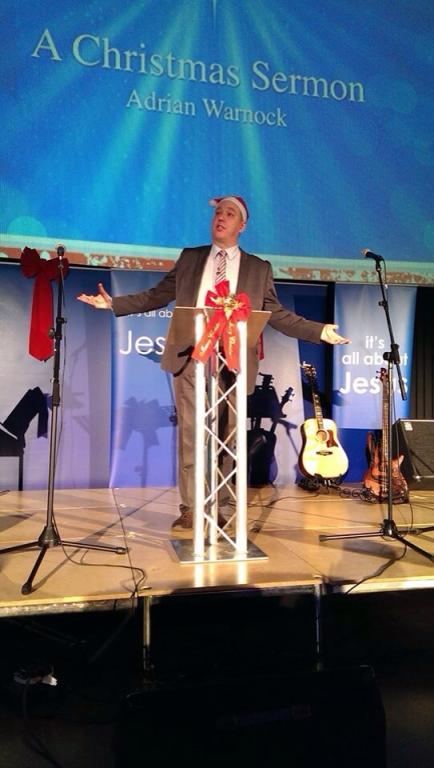 The Christmas story shows that to deliver the World from darkness, God didn't launch an army for an invasion, but came to one person, a simple young girl. There were no Ninja angels here.
B. Mary's response to God
Our response to God should mirror Mary's response to encountering this angel.
There were three phases to her response
1. She was "greatly troubled" at the idea that God would favour her. This was not because of what he said later. So far all has happened is she's met an angel who has told her how blessed she is. She was perplexed, surprised. She probably thought "But God finished doing this kind of thing hundreds of years ago…"
She said "why me?" not because of something bad has happened, but why has this incredible thing happened to me. This is surely because of her humility.
She wasn't perfect. She knew that. She wasn't special. She knew that.
Today, we often feel that God couldn't love us because of the wrong things we have done.
But the truth remains: GOD LOVED HER, and HE LOVES YOU! God delights to take initiative in our lives.
2. She asked questions
She asks "how is this going to be?" she doesn't say "I don't believe it"
It is ok to have questions. Perhaps after today you have all kinds of questions:
– Do you guys really believe all this? Yes we do!
– Do you think that a virgin conceived, "how is that possible?" as Mary herself asked?
– Do you believe her son grew up to be the greatest teacher the world ever saw and healed the sick?
– Do you believe he died and rose again from the dead?
– What has that got to do with us today?
– How is it that 2000 years later more than 2 billion people claim to follow Jesus, and many claim that they know him. Even secular historians accept that Jesus was the single most influential figure in World history.
The most important question you will ever ask is – Who is this man? What should I make of him?
If you are looking for a New Year Resolution, here is one: find out more of him.
We would love you to explore these questions for us. You don't have to be a Christian to come here week by week. We also run alpha courses.
Mary didn't stop there. She took the next step:
3. She put her trust in God and decided to follow him
That is how people become a Christian.
She said, "let it be to me according to your will" a beautiful response, especially when you consider what she was agreeing to. She was happy to be a surrogate mother to God, not knowing how her family and friends would respond.
Many resist God. It is as futile as resisting a brick wall. You can't get very far that way, only hurt yourself that route. God wants us to surrender to his love.
People feel that being a Christian is about giving things up. But life with Jesus is worth any sacrifice. Mary had a hard time ahead…pregnancy, childbirth, and watching her own child dying jn anguish on a cross. It was a delight for her to follow God and it will be a delight to you if you chose to do the same.
The love and kindness of God shows us that if we "surrender" to him he will bless us.
C. The RESPONSE OF GOD
THE RESULTS OF RESPONDING RIGHT TO GOD
1. The miraculous gets released! Still today God is at work in incredible ways in his world. Things you think could never be fixed are easy to him to solve. Maybe there are things you are looking for, there are for me. He says that if you align your desires with his desires, he will give you the desires of your heart. He does it in his way, and we can't force his hand but we should expect him to act! "NOTHING WILL BE IMPOSSIBLE WITH GOD"
Then, Mary goes to her relative Elizabeth who is also pregnant. She stays there for 3 months, which suggests she stayed for the birth of John the Baptist. We see several other responses in this interaction.
2. The fullness of the Holy Spirit is released in Mary and Elizabeth. The Spirit is God dwelling in us. Jesus name is "Immanuel" and because of all he has accomplishd, the Spirit can come live in us as a community! He has promised not to leave us as orphans. He is still with us to the ends of the World.
3. Great joy is the result Elizabeth is full of joy and Mary says her soul rejoices. This is on offer today. It's not just a cheesy grin where we pretend everything is ok. It is not a fake joy it is real. It's a joy that sparks moments of ecstacy yes, but it also sustains us in the trials that continue in this dark world. We are sorrowful at times but also rejoicing. Christians sometimes experience great suffering as a Christian. Somewhere in the midst of the pain there is a hope, a joy and and peace. The Bible tells us not to grieve int eh same way as others do who have no hope. We do grieve. But we grieve in a different way to those who don't know God. In the middle of difficutly God is still with us. When it seems to be dark all around you, there is still a spark of light that changes everything. A glimmer of hope is all that you need.
Joy, hope and peace are what we should pray for. Pray for me as I pray for you that God's peace will rest on you this Christmas.
4. Mercy spreads to anyone who will accept him! "And The poor are satisfied with good things." said Mary.
Look around you this Christmas and extend the mercy God has give to you to others.
Jesus has been a massive force for good throughout the last 2000 years.
He wants to do good in your life this Christmas
As you give your gifts, remember the one who gave the greatest gift: himself.
It came at great cost to him, the cost of his life.
But he offers it freely as a gift that you must simply unwrap.