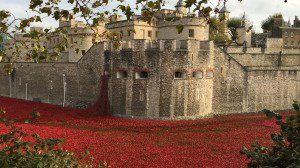 Tomorrow is Remembrance Sunday. We find it hard to imagine the devastation caused by two World Wars separated by just two decades. But we must remember. We must appreciate the horrors of war and be thankful for the relative peace in our time.
And we must think of those who do not know peace. Small tokens like buying a poppy, or placing the symbol ن on our social media profiles may seem insignificant, but such acts make us think. They should make us feel some solidarity with those who suffer now, and those who suffered before for us.
Earlier this week I had a business meeting in London. I took the opportunity in the middle of the afternoon on a working day to stop and get out of the train I was on to view the poppy exhibition at the Tower of London. I was not prepared for what I found. Getting off the train was a crowd of people so great that they had to be specially controlled or directed. It was like attending a real event. When I got close enough to see the crowds and the ceramic flowers, I realized it was a big event.
You couldn't get close enough to the display because of a very large, but quiet and contemplative crowd. Each person, united with their peers, stood motionless looking at the sea of red, each poppy representing a British life lost in World War I. At that time death struck almost every town and village in the land. There were only a tiny handful of small hamlets that escaped.
Today similar horrors of war are continuing, especially in the Middle East, where a holocaust of our Christian brothers and sisters who have lived there for 2000 years continues unabated by a few Allied bombing raids.
We are incredibly fortunate that such atrocious acts are so geographically removed from us and seem so long ago now in our own land. But peace is a fragile thing and can be so easily broken. And we should feel pain at the thought of others going through experiences so many in our civilization died to prevent others from experiencing. Nazi Europe no longer has the monopoly on attempted genocide of a religious group.
Today, let's pray for peace to continue for us and that it will come to the Middle East and other areas of conflict. Let's take symbolic steps to help us remember, and think, "Is there anything else we can do to promote peace this Remembrance Sunday?"
I hope this embedded video will give you a sense of what Tower Hill is like with its poppies, but I urge you to go and look for yourself over the next few days if you can get close to it. I'm told it will be floodlight until midnight every day to help more people get to see it. I would recommend approaching from the Monument station rather than Tower Hill, as that station was overloaded when I was there, and has had to be closed at times for safety because of being swamped by those wanting to see this phenomenal display.