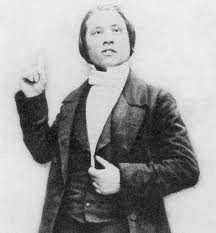 I came across the following two quotes about Spurgeon's view of prayer on a website I was reading. They both struck me so strongly that I wanted to check the sources. Thanks to Logos Bible Software I was able to find the source of the first.
But the second quote eludes me, as although it is often cited online and even in books, I've not been able to corroborate the veracity of the story. Anybody know where it comes from?
A certain preacher, whose sermons converted men by scores, received a revelation from heaven that not one of the conversions was owing to his talents or eloquence, but all to the prayers of an illiterate lay-brother, who sat on the pulpit steps, pleading all the time for the success of the sermon. It may in the all-revealing day be so with us. We may discover, after having laboured long and wearily in preaching, that all the honour belongs to another builder, whose prayers were gold, silver, and precious stones, while our sermonisings being apart from prayer, were but hay and stubble.

C. H. Spurgeon, Lectures to My Students: A Selection from Addresses Delivered to the Students of the Pastors' College, Metropolitan Tabernacle., vol. 1 (London: Passmore and Alabaster, 1875), 46.
It was a pleasant Sunday and five college students were sightseeing in London when they decided to hear the famed C. H. Spurgeon preach. Arriving at the huge church they sat on the steps and waited for the doors to open. While chatting among themselves a man from the congregation came by and greeted them and engaged them in pleasant conversation. After a while he asked, "Gentlemen, let me show you around. Would you like to see the heating plant of this church?" The young men were not particularly interested, as a heating plant was not on the top of their list of things they wanted to visit. Besides it was fast becoming an extremely hot day in July. But they didn't want to offend the stranger, so they consented. The young men were taken down a stairway, a door was quietly opened, and their guide whispered, "This is our heating plant." Surprised, the students saw 700 people quietly bowed in prayer, seeking a blessing on the service that was soon to begin in the auditorium above. Softly closing the door, the gentleman then introduced himself. It was none other than Charles Haddon Spurgeon.
If anyone knows the original source of this story, I would be grateful to hear.