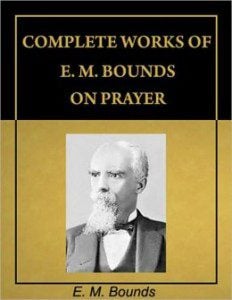 I have been very slowly working my way through E. M. Bounds' Complete Works On Prayer. It is packed full of passages which, like the quote I will share below, challenge me profoundly. But Bounds has a way of convicting me without leaving me feeling condemned.
We have a choice when we read passages like the one that follows. We can either dismiss them, saying the authors lived in a different time, and that the pace of modern life prevents us from really praying as they did. Or we can make a choice to listen to the call of the Holy Spirit as he draws us to greater intimacy with God.
Who will join me in making faltering steps towards a deeper walk with God? Who will encourage me as I endeavor to learn to pray? Who will get a copy of E. M. Bounds' book and allow a man of God from a different era to disciple you in an area where modern Christians are almost universally shamefully and foolishly deficient?
I will be sharing some quotes over the weeks and months ahead. But there really is no substitute for you reading this book yourself. If you want to boost your prayer life, Bounds seems to be the place to go. John Piper said of the book that it is the first in the Complete Works.
Power Through Prayer. It was the seed from which grew the tree, Brothers, We Are Not Professionals. (source.)

And in 2012 he tweeted, "I am deeply thankful I read this little book 32 years ago" (source.)
Probably no book has had a greater effect on my prayer life in proportion to its size than E. M. Bounds,
Here is today's quote from E. M. Bounds:
The character of our praying will determine the character of our preaching. Light praying will make light preaching. Prayer makes preaching strong, gives it unction, and makes it stick. In every ministry weighty for good, prayer has always been a serious business.

The preacher must be preeminently a man of prayer. His heart must graduate in the school of prayer. In the school of prayer only can the heart learn to preach. No learning can make up for the failure to pray. No earnestness, no diligence, no study, no gifts will supply its lack.

Talking to men for God is a great thing, but talking to God for men is greater still. He will never talk well and with real success to men for God who has not learned well how to talk to God for men. More than this, prayerless words in the pulpit and out of it are deadening words. (Source: Complete Works, Kindle Edition)