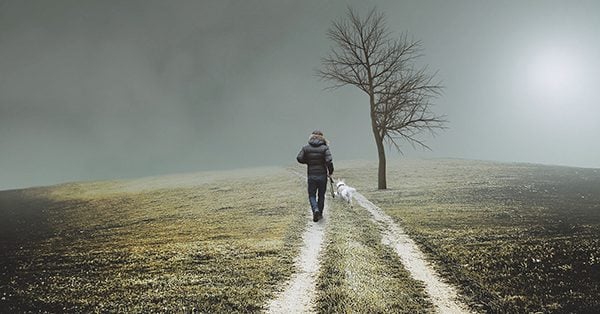 Many of us have forgotten what it is like to walk without a sat nav guiding us.
Even when I go nordic walking in the forest I tend to rely on my phone's map app to direct me.
We miss therefore some of the sense of the metaphor 'walking with God' that the Bible intends.
Walking with God doesn't mean we never take a wrong turn and even get lost.
It doesn't preclude stumbling and falling.
God promises to be the voice saying 'You are going the wrong way'
And to pick us up when we fall down.
When walking there is no such thing as a short cut.
Sometimes we must take a detour to avoid dangers and impassable terrain.
Walking is slow methodical progress, not racing as fast as we can.
Walking is a series of thousands of decisions to place one foot in front of the other,
And keep going.
Walking requires that we pace ourselves, lest we become exhausted before we reach our destination.
When you are walking, there often comes a time when you feel 'I just can't go on'
A short rest, and you are renewed.
Walking is best for long journeys.
For it is true that a trained man can probably run further in a day than he could walk.
But could he sleep, get up and run just as far the next day?
And the day after that?
For you and I, who are not trained
We will probably be able to walk further than we could run.
The Christian life is a long walk, not a short run.
I don't know about you, but I have lived long enough to see some who seemed to be fast out of the gates in their journey with God.
Full of passion and verve, they seemed like they would run with God for ever.
But their initial promise rapidly faded away.
Maybe they needed to walk not run.
But then there are those who walk for decades then stumble and fall away.
People say that the decade I am living through (the 40's) is one of the most dangerous.
People loose heart, become cynical, and even wander off into blatant sin.
Others simply drift slowly further and further away from the One who walks with us.
Each step is crucial.
For it is one more towards our destination or further away.
Sometimes the journey feels lonely.
Sometimes our Companion seems silent.
But perhaps we forgot to speak with Him.
Perhaps we forgot to really commune with him as we walk.
For it is as we walk with someone that we really get to know them.
But only if we open our mouths.
Today, lets determine to really walk WITH God.
For he has always been walking with us.
Enoch walked with God (Genesis 5:24)

Noah walked with God. (Genesis 6:9)

I will walk among you and will be your God, and you shall be my people. (Leviticus 26:12)

O LORD, God of Israel, there is no God like you, in heaven above or on earth beneath, keeping covenant and showing steadfast love to your servants who walk before you with all their heart (1 Kings 8:23)

I waited patiently for the LORD;
he inclined to me and heard my cry.
He drew me up from wthe pit of destruction,
out of the miry bog,
and set my feet upon a rock,
making my steps secure. (Psalm 40:1-2)

Trust in the LORD with all your heart,and do not lean on your own understanding.
In all your ways kacknowledge him, and he will make straight your paths . . .
My son, do not lose sight of these— keep sound wisdom and discretion,
and they will be life for your soul and adornment for your neck.
Then you will walk on your way securely, and your foot will not stumble. (Proverbs 3:5-6,21-23)

Come, let us go up to the mountain of the LORD, to the house of the God of Jacob, that he may teach us his ways and that we may walk in his paths. (Isaiah 2:3)

And your ears shall hear a word behind you, saying, "This is vthe way, walk in it," when you turn to the right or when you turn to the left. (Isaiah 30:21)

He has told you, O man, what is good; and what does the LORD require of you but to do justice, and to love kindness, and to walk humbly with your God? (Micah 6:8)

Walk in love, as Christ loved us and gave himself up for us, a fragrant offering and sacrifice to God (Ephesians 5:2)
See also