Billy was interviewed on TV over several decades, and even gave a TED talk. One of the many things we would do well to learn from Billy Graham is his winsomeness. This series of TV appearances which span decades, you see a man who doesn't compromise his faith, but who speaks in such a winsome way that he even had Woody Allen agreeing to attend one of his Revival meetings despite the fact he states he disagrees with much of what Billy said. These videos are good examples of how we can give a witness whilst speaking the truth in love.
I offer these videos as a great sample of how Billy Graham gave great credit to his Saviour in TV interviews.
Billy Graham on What's my Line? (1960)
Filmed just after one of his Matteson Square Garden Revivals, and he speaks about preaching behind the Iron Curtain.
Woody Allen interviews Billy Graham (1969)
Notice how much Woody Allen admires him, even though they are completely at odds.
Guy Laurence interviews Billy Graham (1984)
This UK TV program speaks about his previous three month trip to UK, and the Mission England trip taking place at that time, and how he first preached in the UK in 1946!
Larry King interviews Billy Graham (1988)
When asked what one question would you ask God, Billy's reply was, "to fill me with his Holy Spirit and give me the ability to do his work every day."
Billy Graham's TED talk (1998)
My Notes: King David's success was in part due to a technological innovation, the introduction of iron…a bit like the impact that the microchip has had on our generation. David found there were many problems technology cannot solve. They are still with us. Nobody has solved them. Here are three problems:
1. Human evil Where does it come from, how do we solve it? Something is wrong. The Bible says the problem is within us. We are separated from our Creator and we need to have our souls restored. David could not free himself from personal failure which included adultery and murder. He sought God to restore his soul.
2. Why do we suffer? I have never met a person in the world who didnt have a problem.
3. Death. This is the forbidden subject of our generation. Most people live as though they are never going to die. Death is inevitable. There is one thing that we all have in common: we are all going to die. It's often difficult for young people to understand that. There is a time to be born and a time to die. I have stood at the death bed of several famous people. I have seen them when they were scared to death. A few years earlier death never crossed their mind. The greatest surprise in my life is the brevity of life. It passes so fast. How should one live in order not to feel regret when one is dying.
King David lived to be 70 yet he too had to face death and he wrote 'even though I walk through he valley of the shadow of death I will fear no evil for you are with me." This was David's answer to the three dilemmas of evil, suffering and death. It can be yours too if you will seek the living God and allow him to fill your live and to give you hope for the future. I am ready when I hear that call to go into the presence of God.
Billy Graham's 911 Cathedral Message (2001)

"God can be trusted, even when life seems at its darkest . . . I have to accept by faith that God is sovereign, and the God of love and mercy and compassion in the midst of suffering. The Bible says that God is NOT the author of evil . . . One of the things we desperately need is a spiritual renewal . . . As a Christian I have hope not just for this life, but for heaven and the life to come . . . I pray that you will have this hope in your heart . . . This event reminds us of the brevity and uncertainty of life . . . Each of us needs to face his own spiritual need and commit himself to God. . . The cross tells us God understands our sins and our sufferings. . . from the cross God tells us that I love you. . .Easter points beyond the cross to the empty tomb and points us to hope for eternal life. . . The older I get the more I cling to the hope I started with many years ago, which I proclaimed to many countries."
FOX: I believe this was the last TV interview Billy Graham ever did (2010)
He speaks bout his relationship with the two Bush presidents and his feelings about speaking at the National Cathedral after 911.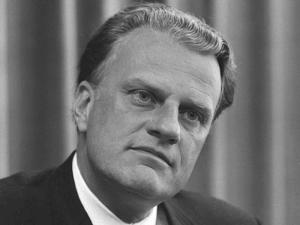 Billy was also asked, if you were to do things over again would you do things differently?
"Yes, I would study more, I would pray more, travel less, take less speaking engagements. I took too many of them in too many places around the world. If I had to do it all over again I would spend more time in meditation and prayer and just telling the Lord how much I love him, and adore him, and am looking forward to the time we are going to spend together for eternity….
I didn't mean that I would speak less in these great stadiums, but that I would speak less at all kinds of other conferences and things I was invited to . . . because I would get up and travel to all those places and I didn't have time to think and study and pray. If I had to do it all over again I would try to organise it better . . . My job was to win people to Christ which I did publicly and privately . . .
His advice to young evangelists
"Spend more time in study and prayer, that is the secret of successful evangelism"
George Bush 43 after his lunch meeting with Billy Graham (2010)

How meeting Billy changed Bush's life. Speaking about a Billy meeting he said "Billy was a magnet. The remarkable thing about him was that he wasn't a magnet to Billy Graham, he was a magnet to Jesus."
More articles about Billy Graham