Scroll down for embedded video memories on Billy Graham from BGEA, Terry Virgo, Lex Loizides, Adrian and maybe you!
My long term pastor, dear friend, and co-author Tope Koleoso often likes to say, to do life well you must handle transitions well. You cannot sleep walk into a transition. Not if you want to be intentional, not if you want to be wise, not if you want to discern what it is that is expected of you in the next phase. Its why the church Tope leads always starts the year with a crossover service and period of fasting and prayer. You cannot drift through a transition. At times of transition literally EVERYTHING changes. Preconceived notions pass. Revolutions can occur at such times. All rules potentially go out the window. I am going to show in this article why I believe the death of Billy Graham marks a massive transition for the global Church. The World has sat up and taken notice of the death of Billy Graham, and his coffin will lie in state at the US Capitol, rightly recognised as a Father of the United States. But there is also massive international interest, and I really wonder if the funeral will end up being televised. Interestingly the pre-death plans for the Princess of Wales were that as she was no longer married to a royal, she would have had a small private service.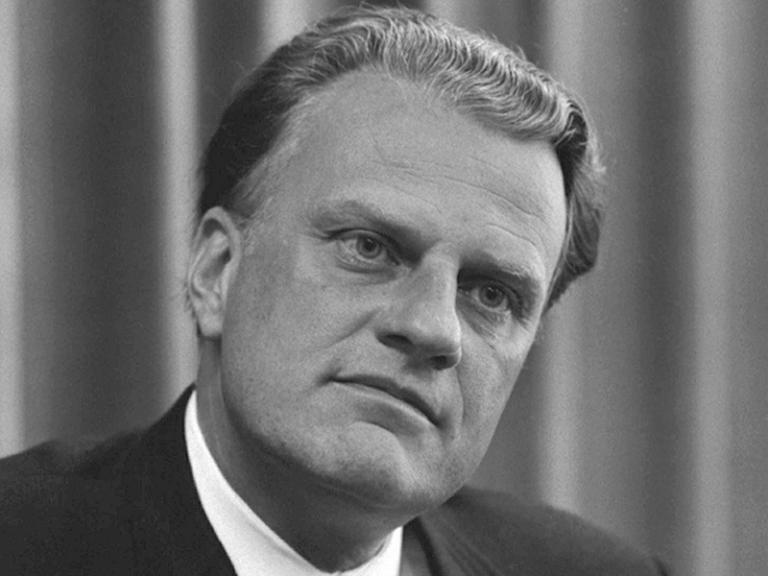 As I was explaining earlier my pastor Tope fathers us through major transitions as a local congregation himself, as does every wise pastor, whilst pointing us of course to our Father in Heaven, since in times of transition we must again cry out our dependence on Jesus! There is perhaps no bigger transition for any individual than experiencing the death of a father or mother. The one who brought you into this world, showed you how to live, rooted for you, provided for you, protected, loved, and cared for you has now left you alone. The one who gave you a name and an identity has left you for ever. Whose example will you imitate now? Our prayer at such a time can gloriously be in the words of the hymn Abide With Me
When other helpers fail and comforts flee, Help of the helpless, O abide with me.
At the death of a parent we are suddenly very aware that the baton really has been passed on to you now, and you better not drop it for the sake of those now following you. A very close friend of mine experienced the death of her own father just yesterday. Although he is a believer, and like Billy Graham didn't really die, but merely changed address to be with Jesus, there were just no words that felt appropriate to say on the phone as the couple told me. I wished that I was there face to face, so I could show my own emotion by a kindly look, or perhaps a hug. I did, however, for when she was ready to read it, pass on a link to the post I wrote the day after my own Father-in-Law passed from death to eternal life:
It is no wonder that we mourn and are sad when a Father passes on, for we are sad when we wave good bye to a loved one who is going on a long trip abroad, even though they will be back to see us. The hope that we all share as Christians is that we will meet again, but we still suffer loss, and it is right to weep. Death is a gain to those who die, but it is a loss to those who are left behind. In John Piper's first audio reflection on hearing of the death of Billy Graham he expressed how surprised he was at how emotional he got on hearing the news. So affected was he that later in the day he also posted a deeply moving written tribute. He speaks of how as a child he had a childish fear of what it would be like for the whole Family of God if Billy was to die young. John Piper the boy was already relating to Billy Graham as though he was a father. The answer to why so many people are also feeling so deeply is simple: Billy Graham was a father to the global church, and really perhaps THE father of modern evangelicalism. In fact he was respected by many in that way who were not even Christians. Billy was also perceived as a father figure by those who met him personally. Perhaps my favourite anecdote I have read these past couple of days is the day that Billy was the only person who would agree to sit next to the impeached President Clinton. He cared for his friend not the political toxicity of the moment. This and other personal memories help us remember the man behind the ministry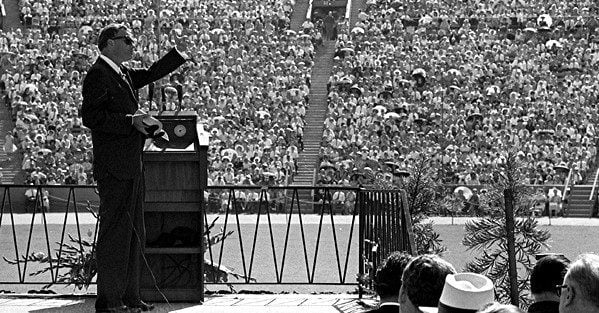 As I think of similar motherly or fatherly figures of my lifetime that were or still are broadly respected by many in at least something like the same way around the World, names like Mother Theresa, The Queen of England, and Princess Diana come to mind. Speaking of the Queen, we know she and Billy were good friends, both from excellent dramatic retelling of Billy Graham's first incredibly impactful tour to the UK in Netflix's The Crown (season 2 Episode 5), and from historical fact. Billy preached for the Royal Family at Windsor, and met personally with her. I do often wonder if it was him who lead her into what seems like her vibrant faith.
When Princess Diana, one of these mother-like figures died, the UK went into an unprecedented period of heartfelt mourning because of the loss of this younger motherly influence. In the days that followed, the nation was rocked and came closer to a revolution than we have for centuries.
Ultimately Tony Blair and the Queen navigated their way through that transition, and it is true that in some ways everything changed in our relationship between the Establishment and what Blair and the Princess loved to call the "People."
Mark my words, the death of Billy Graham has a similar potential to be a key turning point in the Church, because of how so many of us have (maybe without even realising it) seen him as a father figure, possibly the human father for generations of the Church.
There are not many fathers in the Church.
God raises them up to do for His Church exactly what a human father does for us: bring churches into being through sinners saved and formed into families, show us how to live, root for us, provide spiritual nourishment for us in the form of sermons and books, give us a sense of being protected, loved, and cared for, and giving us a name and identity.
Surely one of the best answers to the question, What is an Evangelical? in the 20th & early 21st century was to say it was someone who liked Billy Graham and believed most of the same things as he did. Billy was much more inclusive than most of those who try and. make such definitions now. For example, some of the voices on Patheos Evangelical channel disagree on many things. But I suspect almost all of us, and a number on the Progressive Channel and elsewhere are actually feeling similarly about the nature of this man, what he taught, and how he lived.
How will Evangelicalism be defined now?
Who will define it?
Sadly many potential candidates have come and gone in the global church during my lifetime.
So few seem to able to make the course.
Our lack of fathers is one crucial reason why people need to hear the secret of how to walk that long road faithfully rather than sprint and then burn out.
If the Church is a family, then it is time for us to at least begin a family conversation. As we are such a big family it will need to be lots of big conversations! But just as the extended family gathers at a funeral face to face to reflect on what has been, and wonder when they will next be together, this conversation cannot happen in silos, it must include the full range of spiritual descendants of the Father!
And I believe that this conversation shouldn't happen only in written form. We have video. It is not as good at face to face. But it is infinitely better than the written word in conveying emotion. Even audio translates some compassion and connection.
Therefore, I am calling on my brothers and sisters for video memories, reflection, and conversation at this crucial time.
We can do this by uploading clips, or perhaps at some point we can do conversations on Facebook Live or similar venues.
I am of course especially interested in hearing from evangelists and other church leaders, but to be honest from ANY members of the Family of God.
I have no answers, I am only asking, like many others, the questions.
Of course I do also have my own reflections and memories of the impact of this man in my own life and nation which is also embedded below in the form of a recorded Facebook Live event video. It might give you a few ideas of the kind of thing I am looking for.
I have begun approaching some key people I know. Terry Virgo, a man who is himself the founder and father of a network of over a thousand churches was the first to answer. His passionate short video is embedded below.
I have shared in my first post a video of one of Billy's early sermons which I found myself watching the day he died. It made me ask myself: DO I REALLY BELIEVE THAT, DO I REALLY LIVE THAT, AND DO I REALLY SHARE THAT WITH OTHERS?
Video of Abide with me, one of the hymns often used in Billy's meetings, being sung by Graham's associate George Beverly Shea is also available.
Finally also embedded below is a short and powerful compilation of video clips in the form of a mini biography of Billy that the Billy Graham Evangelistic Association has put together. If you are still wondering what all the fuss is about then please watch that. I defy you to get to the end of that one without weeping at the astonishing way God used this man to save multitudes at once. I do hope that some of you somewhere in the midst of all this will cry out, like Elisha about Elijah,
"Where now is the God of Billy Graham?!"
I hope these videos are a way to cultivate your own thoughts, and importantly emotions. If you come across or produce similar clips that are worthy of a broader audience, do let us know in the comments box below. Links to videos and useful posts ARE allowed and encouraged here!
Lets keep the family conversation civil and respectful, however. Remember, Billy is not even in his grave yet.
Let's talk about Billy Graham Posted by Adrian Warnock on Wednesday, February 21, 2018
If you can't see the Facebook Live video here, click through to Facebook.