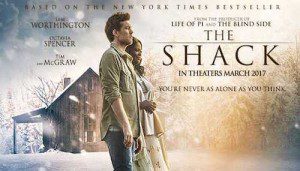 I read The Shack in just one sitting soon after it was released. With mystery, spirituality, and philosophy, it was a book that made me ponder life and the afterlife well after I finished the last chapter.  They say never to judge a movie by the book, so I went into the movie with an open mind. It had been years since I'd read the book anyhow, but it was funny how it so quickly came back. I could tell what was the same and what was different, and mentally compared notes on how the director brought the vision to life and how I, the reader, had envisioned it all. It is, however, unfair to compare and so I didn't.
Mack, played by Sam Worthington, didn't have the easiest childhood. With an abusive father who used the Bible as leverage and his role in the church as a decoy, Mack was determined to break the chain and not become the same type of husband or father to his kids. Mack seemed to have it all, a beautiful wife and three beautiful kids who lived in a beautiful suburban house across from his best friend Tim McGraw. Well Tim McGraw played his neighbor and best friend, he wasn't actually Tim McGraw. Well, he was, but he wasn't. You get the point. All that changed when Mack took his three kids on a camping trip and a horrific tragedy struck (I won't ruin it for those who haven't read the book or seen the movie yet). I read the book soon after working on a case with similar attributes, so this was a bit too close to home for me. I was concerned about how it would play out on screen, but it was tasteful, yet still filled with just the amount of emotion and horror that needed to be shown in order to demonstrate Mack's swift decline.
As with any tragedy, grief is a personal thing, and everybody in the family dealt with it differently. Mack lost his faith and in doing so turned within and pushing away the people who loved and needed him the most, and who he loved and need him the most – his family. It wasn't until he received a mysterious note in the mailbox inviting him to visit the very place the horrific scene took place. The note was signed "Papa", the name his wife lovingly called God. Believing it to be a set up, he decides to go anyhow. And this is where the story truly begins.
It wasn't a set up at all, at least in the way Mack thought it might be. Mack goes to the shack only to meet up with the Holy Trinity; God, Jesus, and the Holy Spirit. God is played by Octavia Spencer, Jesus by Avraham Aviv Alush (who I honestly thought were the best two characters in the whole movie), and Sarayu/Sumire (Holy Spirit) by Sumire Matsubara. God, or Papa, was portrayed as a motherly figure because Mack would have never listened to a fatherly figure seeing as his history with his father. Jesus was a jeans and flannel shirt guy, demonstrating his human side and working on carpentry projects in the garage, oh and walking on water. Sarayu tended to the gardens, collected tears, and sought the creative side. There were poignant dialogue, arguments, and discussions that had many ah ha moments where I heard the movie crowd gasping. Some points and quotes were:
We were never put on this earth to judge. We were put on this earth to love and find joy. Evil wins when we judge.
If anything matters then everything matters.
Pain has a way of clipping our wings and keeping us from being able to fly.
"I don't need to punish people for sin. Sin is its own punishment, devouring you from the inside. It's not my purpose to punish it; it's my joy to cure it."
There were a couple scenes that I didn't like at all. The first when Mack was gifted the opportunity to see heaven and his loved one. He asked if they could see and hear him and he was told no, but that they could feel him. Another scene and he was taken to see his father who had passed. Though the scene was beautiful, it felt awkward. It is noted in the movie that all sins were forgiven once the sin was admitted, and the sin itself was judgement and hell (not a direct quote).
A favorite scene was when Mack and Sarayu were in the garden. He kept commenting what a mess the garden was and Sarayu explained that the garden was him. To see the garden evolve as Mack grew was beautiful and by the end there was an exclamation mark (that I won't ruin).
Mack wakes up to find that God/Papa evolved just as he evolved, this time into a Native American played by Graham Greene (some may recognize him as the bad guy Malachi in Longmire and for some reason I had a difficult time separating that all out). It is then that Mack is given the opportunity to forgive the most unthinkable so that he can move on .
"Forgiveness is not about forgetting. It is about letting go of another person's throat."
"Forgiveness does not excuse anything………You may have to declare your forgiveness a hundred times the first day and the second day, but the third day will be less and each day after, until one day you will realize that you have forgiven completely." 
And so you will have to see the movie to see what happens afterwards. Overall I left the movie feeling good. I took tissues with me but only cried a couple times. On an acting note, I would've liked to see Harry Conick Jr. play Mack instead of Sam Worthington as his acting left me feeling too cold and unemotional. Several people in the theater fell asleep and there was an orchestra of snoring (no, not me or my husband), so yes, the movie was a bit slow paced in many spots. I will buy the DVD when it comes out and watch it again, as I like the lessons expressed on forgiveness.
Did you see the movie? What were your thoughts?
Believe,
Kristy Robinett
www.kristyrobinett.com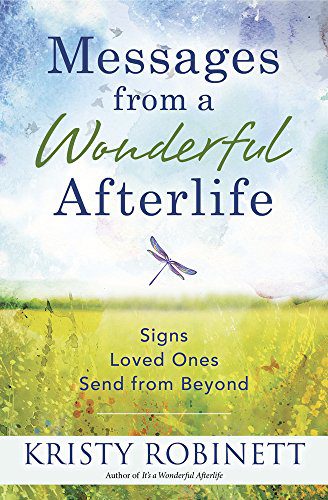 Kristy's newest book is available for Pre-Sale on Amazon.