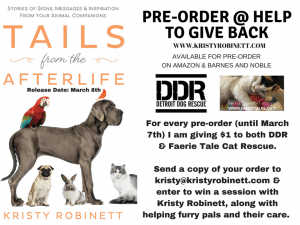 This is an excerpt from Kristy Robinett's newest book – Tails from the Afterlife – available for pre-sale, and out on March 8th.
Gordie came up to me after a library event that I was speaking at.
He was a bit shy and reserved, and I could tell it took a lot of courage for him to talk to me. I pulled him away from the crowd at the table to see if that helped, but as soon as I touched his shoulder my hand felt hot, like it was touching a hot iron.
"Do animals forgive?" he asked me, without a backstory.
"I don't believe animals hold grudges like humans do," I answered, still feeling the heat on my hand. "Often times, though, we are our own worst enemies and no forgiveness from another is really needed, except within ourselves."
Gordie thought about that for a moment and asked me to repeat it.
"Whatever you feel guilty for, you have to let that go," I reworded.
"It was a freak accident. The barn was locked up for the night and all my animals died in a fire," Gordie bent his head down and gulped back a sob. "I tried to get them, but I couldn't. I burned my hands, and I couldn't even feel it. I didn't even care. I was supposed to take care of them. They relied on me to take care of them."
Gordie grabbed me in a hug, sobbing on my shoulder.
I couldn't imagine his anguish, but I certainly felt it. "They knew you loved them and you will see them again one day, but your job isn't to punish yourself anymore."
"How do I get over this?" he asked me, pitifully.
I wished I had all the answers, but everyone grieves differently and every loss is unique. There's no one size fits all about death. I suggested that he create a monument for his lost animals, maybe next to the rebuilt barn. A token of love, not a constant remembrance of grief.
To read more about Gordie and other stories order Tails today. 
If you are feeling guilty about your pet's passing, stop the
thought pattern by recognizing the thought and turning off your
negative mental chat that could be sabotaging the life that you so
deserve. How do you do that? The first thing is by acknowledging
that you are doing it and when a negative thought arises, tell yourself
STOP! (preferably out loud) and then replace the negative
thought with a positive one or a positive memory. Or simply take
some deep breaths. We can't always have a head full of sunshine,
but little by little you will notice that your negative thoughts will
start to dissipate. Think of it as mental scum and you are erasing it
away with your happy thoughts. Always remember that what you focus on expands, and if it is negative, then that is what you will
get, and your pet on the Other Side don't want you to walk around
gloomy and sad.
ABOUT THE AUTHOR
Kristy Robinett (Michigan) is a revolutionary psychic medium, international author, and inspirational speaker. In addition to giving readings and teaching workshops, she uses her psychic skills to assist with police investigations. Kristy lectures across the country and is a frequent media commentator, appearing on the ID Channel's Restless Souls, Fox News, ABC News, Coast to Coast, and more. Kristy Robinett is also the author of several books, including Tails from the Afterlife: Stories of Signs, Messages, and Inspiration from your Companion Animals (Llewellyn, March 2018); Messages From a Wonderful Afterlife: Signs Loved Ones Send from Beyond; It's a Wonderful Afterlife: Inspiring True Stories from a Psychic Medium; Forevermore: Guided in Spirit by Edgar Allan Poe; Messenger Between Worlds: True Stories from a Psychic Medium; Higher Intuitions Oracle; Ghosts of Southeast Michigan; and Michigan's Haunted Legends and Lore.Visit her online at KristyRobinett.com.