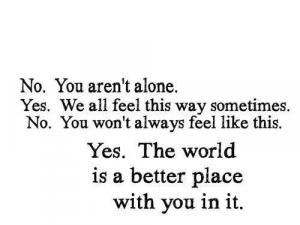 It was the summer before 1st grade when my mom ran out of the house, calling to my dad that she was going to kill herself. My dad simply sat in his chair and continued to watch the baseball game. I begged him to go get her, but he just sat there. Being a mediator even at that age, I ran after my mom. She gave me an ultimatum – I commit suicide with her or I stay with my "heartless" father. Thankfully the angels/guides intercepted before I had to make that decision. My mom was admitted into a psychiatric ward not long after that, but nothing helped my mom live again – not shock therapy, or medicine, or therapists. Not her husband or her kids. She survived until she was 69 years old but between her illnesses and finally blindness, she never truly lived.
A couple years back I wanted to kill myself. It wasn't the only time either. The first time was Thanksgiving years ago – the marriage between my then husband and I was falling apart and I was afraid – I didn't believe I had the strength to be a single mom. Whether a genetic chemical, or a knee jerk reaction, I came very close. Thankfully the angels/guides intercepted before I made a final decision.
What spurred the most recent close call was due to steroids. Yep, I was given a steroid for tennis elbow and that resulted in me seeing things that weren't there. Okay, so I see people who've crossed, but this felt weird and scary. It was different. My speech was slurred, and I thought maybe I was having a stroke. Again, I let it go. The fourth day I was raging angry and my husband Chuck and I got into a huge fight over something ridiculous. To be honest I don't have a clue what it was about, it was that stupid. As he stormed out of the house, though, my thoughts turned dark.
I didn't want to kill myself. I didn't want to leave my family and friends, but I wasn't thinking straight, I wasn't me. I felt like the only way to end the pain was to end my life. The devil on one shoulder was telling me to end my life, that nothing was going to get better or seem any better. The angel on the other shoulder was telling me this was a fleeting thought because something else was the matter and to just take a hot shower, drink some hot tea, and sleep off the mood.
I wanted to talk to someone, but I didn't want to go to a psych ward. I didn't want to be thought of as crazy. I had no idea who to call, and at that moment I felt like nobody would care anyhow. The truth that was skewed was that I have a great tribe of family and friends who I know do care. But all I heard in my head was to end my life and get it over with. I thankfully listened to the angel on my shoulder, and after some hot tea and a gut wrenching sobs I fell asleep on the couch. I went to my then doctor the next day who diagnosed me with a reaction and told me to drink a lot of water. I went home scared that the darkness would come again. It didn't, though.
Through those experiences, I received a glimpse of the numbness and deep emotional ache that their spirits have communicated to me in previous sessions. Many say those who commit suicide are selfish, but as I went through the medicated haze I didn't have time to really feel. I didn't have the motivation to write a letter or to reach out to a toll free suicide hotline. I couldn't explain my emotional pain to my husband (who I tell everything to) or a best friend. It was like my soul had abandoned me and the only way to find peace was to chase after it. I didn't think of the pain the loss would've caused my family, only that I had to go and find me again even if death was the only way.
The Japanese have an art of golden joinery. Broken and damaged ceramics are lovingly restored with gold or other precious metals, making them even more refined thanks to their 'scars'. Kintsugi teaches us that being broken can in fact make us more beautiful with time and scars are there to be healed, restored and admired, not hidden away. The cracks are highlighted, they add character and are there to be adored, and not to mention they also make the piece more valuable.
Sometimes people crack. I did. The mental health stigma is still real, and people can be cold and judgmental. When already vulnerable even if there's a hundred people being supportive, that one judgement feels like a million. A heavy heart is easily hidden, but a hardened heart is easily seen. We are often an instant grief society. A sad face on a Facebook status and many feel they've done their part. When someone is broken inside, a sad face on social media doesn't help.
My wish for everyone is that within tragedy, suffering and sadness that you can find the rainbows. They are there, but the storm clouds are often very thick. Yes, life's difficult. If it wasn't, the rainbows wouldn't be so special. If you can't find the rainbows, ask for help. If you are in crisis, call that National Suicide Prevention Lifeline at 1-800-273-TALK (8255).
This year has been rough for many. I had a previous client attempt suicide in my parking lot of my office. I've lost two special people this year to suicide, one being Jessica. People can speculate all they want, thinking they know what was going on in the person's head and behind their closed doors, but the truth is only the person who went through it knows everything. Instead of gossip offer hugs, a smile, and support – even to a complete stranger. Take each day one day at a time and as a precious gift. Time is short and you just never know.
To those who've lost a loved one and who is grieving, it's a special part of your heart and soul that is taken; stripped away. Death is hard on the living, there's no argument there, and time doesn't make the hurt go away, but time does allow for some healing. To all those who've lost their will to fight the battle, may you find your peace and fly with the angels.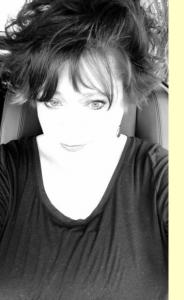 Kristy Robinett

www.kristyrobinett.com