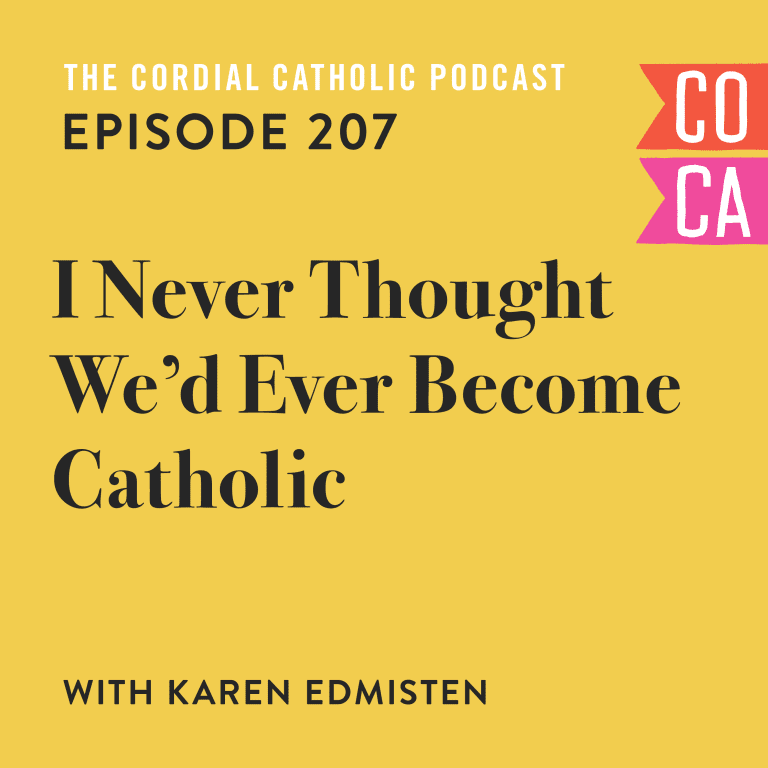 In this episode, I'm joined by the wonderful Karen Edmisten, author, Mom, and surprised Catholic convert, Karen joins me this week to tell her amazing story from atheism into the Catholic Church.
Raised without any religion at all Karen was surprised when she began to ask questions about the meaning of life – to encounter people who caused her to ask these kinds of questions by the way they lived – and ended up becoming Christian. To her surprise, she wasn't done yet, and Karen eventually made her way into the Catholic Church.
Her husband, a practical atheist, was as surprised as anyone but he came along for the journey and, eventually, converted to Catholicism as well.
Through struggles, challenges, incredible miracles, and wonderful stories along the way, Karen tells the tale of her amazing journey from atheism into Catholicism and how it's fundamentally changed her life, her husband's life, and the live of their family.
You're going to love this episode!
For more from Karen visit her website.
Send your feedback to cordialcatholic@gmail.com.
Sign up for our newsletter for my reflections on  episodes, behind-the-scenes content, and exclusive contests.
To watch this and other episodes please visit (and subscribe to!) our YouTube channel.
Please consider financially supporting this show!
For more information visit the Patreon page.  All patrons receive access to exclusive content and if you can give $5/mo or more you'll also be entered into monthly draws for fantastic books hand-picked by me.
If you'd like to give a one-time donation to The Cordial Catholic, you can visit the PayPal page.
Thank you to those already supporting the show!
To listen to this episode click here, or listen below.