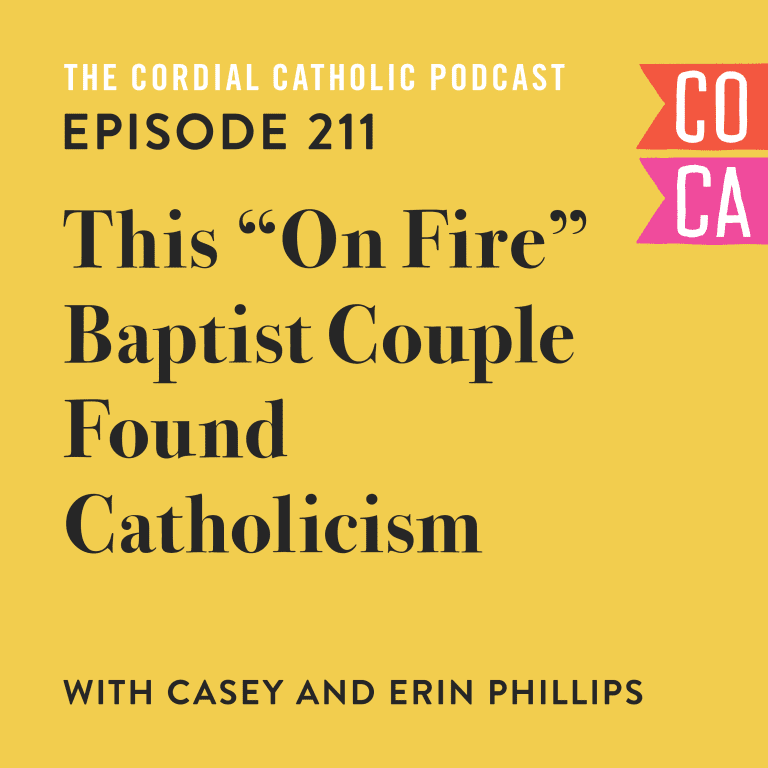 In this episode,  I'm joined by Casey and Erin Phillips from the Bapticatholic Podcast to talk about their journeys out of their fervent Baptist roots into full communion with the Catholic Church.
Strongly evangelical from the beginning of their journeys, Casey and Erin explain exactly what drew them to Catholicism – and it's an amazing story!
From miraculous experiences of beauty to asking the tough questions to converting in spite of being in the incredible minority of Catholics in their area, this is a story of grace, of Christ calling His own back to Himself, and of exactly why a Baptist couple, on fire for their faith, would ever consider becoming something as crazy as Catholic.
For more from Casey and Erin check out their podcast The BaptiCatholic Show everywhere podcasts are found.  You can also visit their website and find them on YouTube where you should subscribe to their channel immediately.
Send your feedback to cordialcatholic@gmail.com.
Sign up for our newsletter for my reflections on  episodes, behind-the-scenes content, and exclusive contests.
To watch this and other episodes please visit (and subscribe to!) our YouTube channel.
Please consider financially supporting this show!
For more information visit the Patreon page.  All patrons receive access to exclusive content and if you can give $5/mo or more you'll also be entered into monthly draws for fantastic books hand-picked by me.
If you'd like to give a one-time donation to The Cordial Catholic, you can visit the PayPal page.
Thank you to those already supporting the show!
To listen to this episode click here, or listen below.