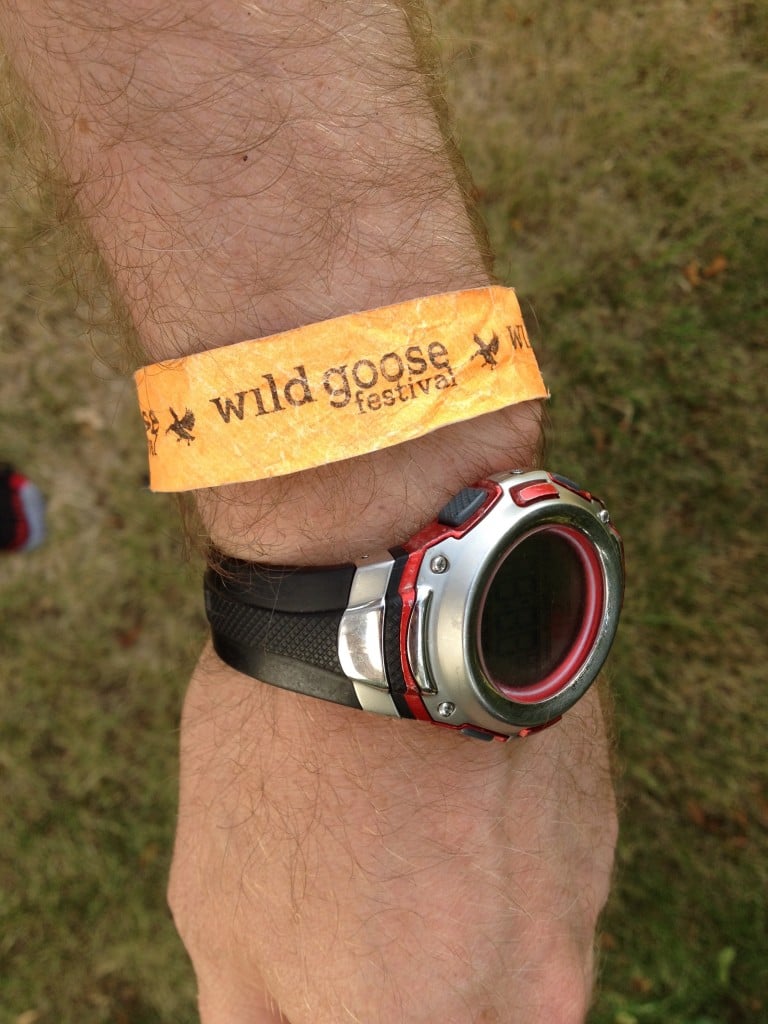 The best Pagan festival I went to this summer wasn't a Pagan festival at all.
I actually haven't gone to any Pagan festivals this summer, although we did attend other gatherings, like the Unitarian Universalist General Assembly in Columbus, OH.  (The highlight for me was probably confronting the Westboro Baptist Church protesters en masse while singing songs of love.)
But the best event we attended this summer was a more traditional outdoor festival called "Wild Goose", which is held in Hot Springs, NC, just across the border from Tennessee, snuggled in a valley in the Smokey Mountains.  There was cool music and interesting workshops.  The location was gorgeous and we had a perfect campsite right on the French Broad River.  And the people were awesome.

But Wild Goose isn't a Pagan festival.  It's a Christian festival.  But it was like no Christian gathering I have ever experienced.
Now don't flip out on me.  I'm not re-converting to Christianity.  But the experience did dispel some of the prejudices I have developed about Christians since I left my Christian faith of origin.
I first heard about Wild Goose from other Pagan bloggers Alison Leigh Lily and Teo Bishop (who now goes by Matt Morris and has re-converted to Christianity).  I was impressed that Pagans felt welcome at a Christian festival and I was curious about this thing called the "emerging church".  But I didn't decide I wanted to go to Wild Goose until I heard Krista Tippett of NPR's On Being interview the Indigo Girls at the Wild Goose Festival in 2013.  (They returned this year.)   I decided that Wild Goose might be a perfect place for my multi-faith family, including my Mormon wife, my atheist son, my label-adverse daughter … and my Pagans self.  I was more right than I could have anticipated.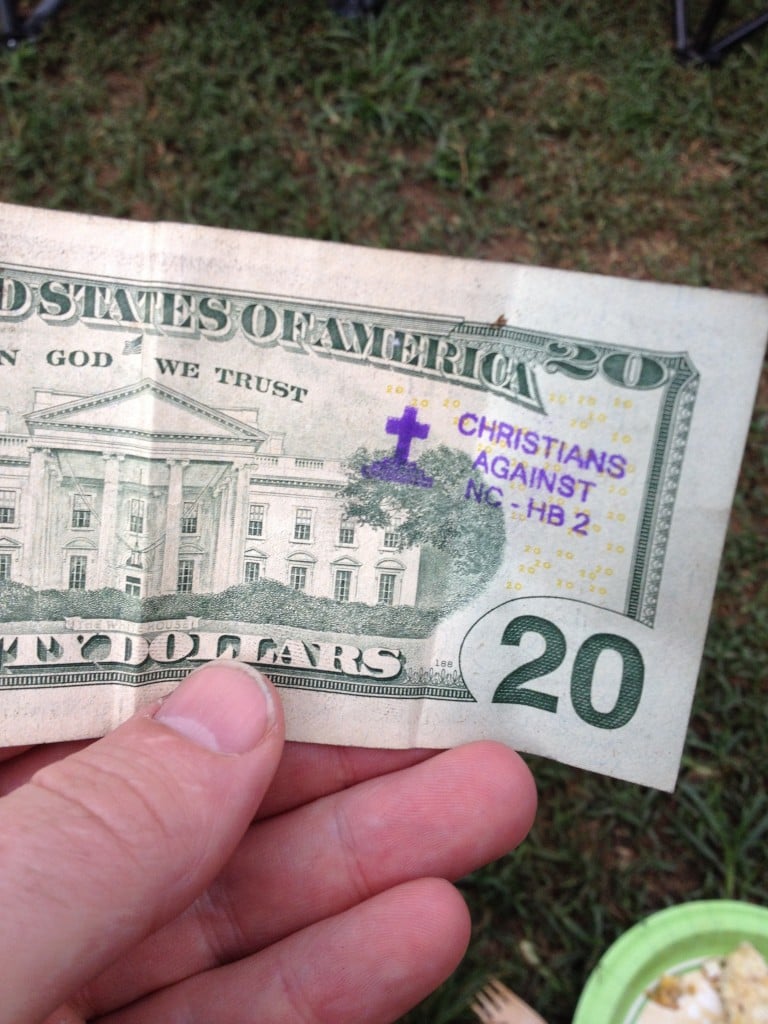 Social activism, not Bible bashing
Wild Goose is like no other Christian community I have encountered.  First of all, it's not just LGBT welcoming — which is kind of a weak stance when you think about it — but is LGBT affirming.  There were openly gay and trans- people, not just in attendance, but highlighted as speakers and leading workshops.  The story of one trans-woman and former pastor stood out to me.  She described her rejection by her Christian community when she transitioned, in spite of a lifetime of service and leadership.  I recall one speaker saying, "Because we're Christian, we honor your pronouns."  Think about that for a second.  "Because we're Christian … we honor your pronouns." What a powerful statement in today's political climate!
In addition, racial equality was very much on everyone's minds and tongues.  People were reacting to the very recent shootings in Minnesota and Louisiana.  A call to a Christian minister in Minnesota was broadcast from the main stage.  And several presenters, both white and people of color, spoke passionately in support of Black Lives Matter.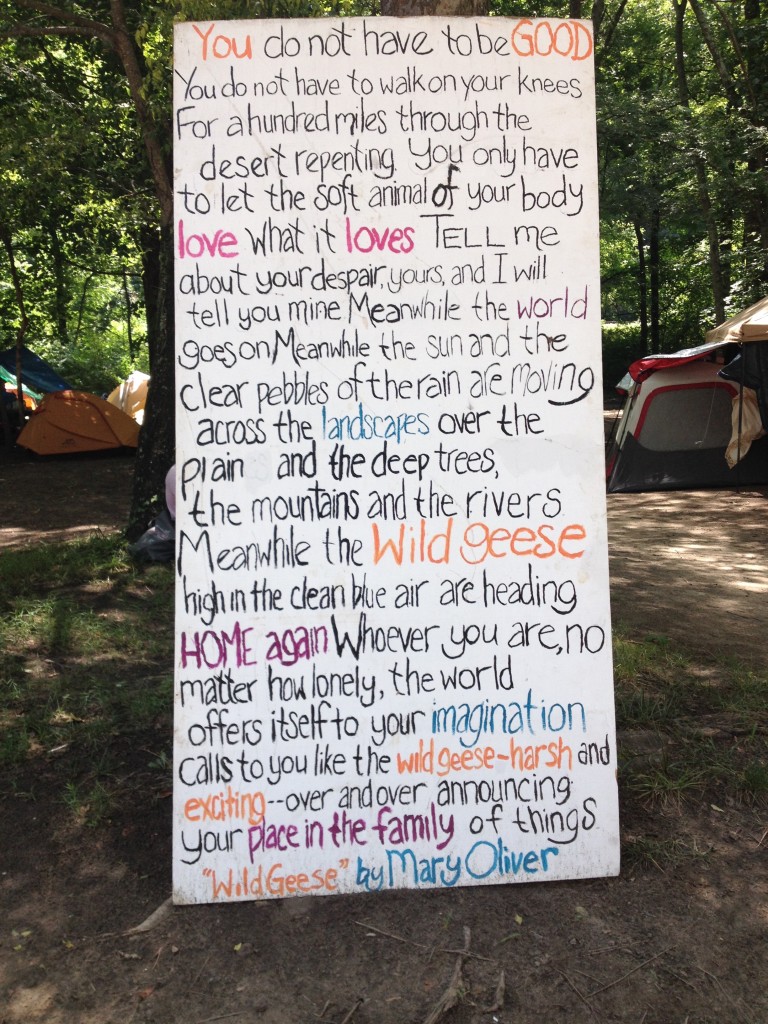 And far from being climate change deniers, this community took the reality of climate change as a starting point for activism.
While most of the talk was framed in one way or another by the Biblical narrative, I didn't feel like I was getting hit over the head with the Bible.  I actually saw very few Bibles — I found one buried on a back table in the bookstore tent and another in the Episcopal tent — which was very surprising for gathering of 3,500 Christians.  And the Jesus I heard talked about mostly was Jesus the social reformer and political radical.
The Pagans and the Christians
I was a little surprised how much I enjoyed the Christian music.  The best, for me, was Matt Maher, Grammy nominated contemporary Christian musician.  I don't share his theology, and his religious language is not my own, but I felt there was something universal about the emotions behind the lyrics — a hope for liberation and grace.
Some of the other highlights for me included:
A workshop entitled "Messing With Spiritual Traditions" presented by a a lady with an affinity for Celtic Christianity.  She was raised in Australia and always felt a disconnect between the Easter liturgy and the seasonal cycle of the southern hemisphere.  (This should sound familiar to Pagans down under following a northern hemisphere Wheel of the Year.)  She spoke about the spiritual practice of gardening, in which she saw the cycle of life, death, and rebirth, and the practice of connecting to the present through one's breath — both concepts that are familiar to Pagans.
A workshop called "Life After Faith" which included both agnostics and atheists.
A workshop about the ideas of Teilhard de Chardin.  The presenter described how, in the Axial Age, human beings transitioned to a transcendent conception of the divine, and in so doing, we lost the divine feminine, we broke ties with the earth and with each other, and our concept of salvation devolved into escapism.  He made the case that we are experiencing a second Axial Age, in which we are recovering what we lost in the first Axial Age, integrating matter and spirit, immanence and transcendence — again, ideas that many Pagans are familiar with.
A presentation and art exhibition called "FaithMarks" about tattoos as a form of spirituality.  People told their stories of the spiritual significance of their tattoos.
A workshop and earth ritual presented by Matthew Fox — who was defrocked by the Catholic church, in part because of his association with the Pagan Starhawk.  In the ritual, Fox called the quarters and led us in a spiral dance.  He also spoke about angels, spirits, and "little gods" interchangeably as "divine helpers."
On the way to another workshop, I overheard someone telling their friend in passing that they were going "to a cleansing."  I didn't hear the second person's response, but the first person responded, "No, with a shaman."
A workshop entitled "Hiking as a Spiritual Practice."  We did a short solitary hike afterward and I discovered a monument of stacked stones on a rock in the river.
Singing "I'll Fly Away" and "This Little Light of Mine" in the dark during nightly "Beer & Hymns" after the musical performances.
I finally got to meet my internet friend Matt Morris — known to Pagans as Teo Bishop.  Matt created quite a stir when he came out as himself a few years ago — the Pagan Teo Bishop and the popular musician Matt Morris were one and the same — and then when he left Paganism for Christianity.  Matt and his partner facilitated the "Troubling the Gospel" tent, which hosted a variety of social justice workshops, one of which I was fortunate to attend.  On the last night of the festival, Matt actually joined the Indigo Girls on the stage and sang "Closer to Fine" with them.  It was incredible!
10. Dar Williams opened for the Indigo Girls and sang … hold on to your seat … "The Pagans and the Christians".  And that wasn't even the best part.  When she got to the verse which goes, "… sending hope for peace on earth to all their gods and goddesses …", everyone around me cheered!  No shit!  After that, my mind was completely blown.  I just kept asking myself, "Where am I?", "What is this place?" and "Who are these people?"
Obviously, I didn't attend every workshop or every event (there were as many as a dozen events scheduled hourly), but I think the part I experienced was representative.  It's not an overstatement to say that my faith in Christianity was restored.  I know that the Wild Goose attendees represent a very small part of the Christendom.  But 3,500 people in one place is nothing to scoff at.
I know many people have been and continue to be hurt by Christianity.  But I've decided I can no longer talk about Christianity, writ large, like it is the antithesis of Paganism.  There was far too much overlap between the Christianity I saw at Wild Goose and the Paganism I call home for me to continue to vilify Christianity in the way I have in the past.  And honestly, I saw more acceptance for Pagans at this Christian festival than I have ever seen for Christians at a Pagan event.
If you get the chance next summer, I highly recommend all my Pagan friends check out the Wild Goose festival.  I think you will find it to be a wonderful surprise, like I did.