By Altmuslim Editors
Some of you may think that of all the years we have done an annual Top Ten Good News Stories edition, this is the one we sit out. After the weight of Gaza, ISIS, Central African Republic, Syria, Burma and most recently Pakistan, we gave it some serious thought. But the purpose of this feature is not to ignore the struggles of the past year – it is to highlight what we feel is special about the shared Muslim experience, the spirit and vision that we need to internalize in order to keep going. These stories may seem insignificant to some, but they illustrate larger trends that we will need to amplify if we are to overcome our collective challenges: optimism, hope, creativity, confidence and trust in our faith, integration, mutual respect and a striving for the betterment of humanity. So with that, as 2014 comes to a close, we present to you the 12th annual Top Ten Good News Stories (of 2014) for your reflection. Read, reflect and be happy. (See altmuslim's "Top Ten" lists for 2013, 2011, 2010, 2009, 2008, 2007, 2006, 2005, 2004, 2003, and 2002.)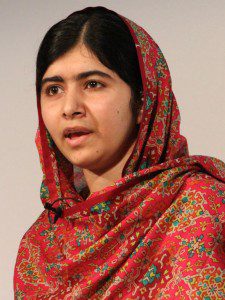 1.Malala Yousafzai receives the Nobel Peace Prize for her struggles (Pakistan)
At the tender age of 17, Malala Yousafzai, who since being shot by the Taliban in October of 2012 and since then had been fighting for several years for the right of girls to education, was awarded the Nobel Peace Prize for 2014. Along with co-honoree Kailash Satyarthi, Malala was awarded the honor for their "struggle against the suppression of children and young people and for the right of all children to education." The Nobel Committee made it a point to give the award to a Hindu and a Muslim, an Indian and a Pakistani, to highlight the "common struggle for education and against extremism."
Malala first came to public attention for an anonymous diary she wrote for BBC Urdu about life under the Taliban in north-west Pakistan. Three years later she and another classmate was shot by the Taliban in the Swat Valley. Her story and recovery captivated the world, and Malala went on to publish an autobiography, address the UN General Assembly and advocate for girls' education. Though she remains a controversial figure in her home country, Malala is beloved and admired around the world for her commitment to raising awareness for girls' education. Said Malala, "This is not the end. This is really the beginning. I want to see every child going to school."
2. The #IllRideWithYou hashtag highlights Australian compassion (Australia)
In mid-December, an armed gunman stormed a cafe in Martin Place in Sydney, Australia, taking hostages and displaying an Islamic flag in the cafe's window. The terror-filled standoff ended with gunman Man Haron Monis and two others dead, and Australian Muslims fearing a backlash. In the tense hours during the standoff, Rachel Jacob tweeted that a Muslim woman sitting on her train removed her hijab to avoid harassment. Jacob ran after the woman and told her to put her hijab back on, that she would walk with her in solidarity. This simple tweet sparked an outpouring on Twitter under the hashtag #IllRideWithYou, with many Australians tweeting where they would be on public transportation and offering to commute with any Muslim scared to be alone.
The #IllRideWithYou hashtag started as an Australian outpouring of solidarity with Muslims in the face feared Islamophobia and then spread to a promise from people all over the world to stand by each other, support each other, protect each other and lift each other up. Wrote one Patheos blogger, "That is the world I want to raise my children in."
3. The popular Serial podcast helps rewrite Muslim narratives (United States)
If you're not aware of "Serial", you've missed out on the world's most popular podcast, which was downloaded over 5 million times during its 12-week run in late 2014 and proved to be an addictive and a powerful addition to the cultural landscape. The show reopened a 1999 murder case in which a Muslim teenager named Adnan Syed was convicted of murdering his girlfriend. Despite the grisly nature of the story, and the fact that a Muslim protagonist/antagonist convicted of murder is at the center of it, the story considerably humanized the American Muslim experience.
For one, it explored Adnan's story in depth, as well as the Baltimore Muslim community from which he came, and it painted Muslims as normal human beings with frailties like anyone else. Second, the story came to us via American Muslim blogger (and former Altmuslim columnist and Patheos blogger) and lawyer Rabia Chaudry, whose advocacy for Adnan has inspired legions of fans and additional inquiries into the complexities of American Muslim life. "I've been moved and intrigued by learning about Islamic spiritual practices, prayers and traditions," commented an avid listener on Reddit, "a bit from Serial and lots from Rabia's blog."
4. Friday services at the Washington National Cathedral unite communities (United States)
It started as a passing suggestion by Episcopal Rev. Gina Campbell, the director of liturgy at the Washington National Cathedral, to South African ambassador to the United States Ebrahim Rasool, after a friendship blossomed in the wake of a memorial service for Nelson Mandela. Exploring ways to bring both religious communities together, they settled on having a Friday prayer at the cathedral. 200 worshippers and observers attended (plans were only for 100 but demand was great), and both Christian and Muslim speakers invoked friendship, resilience, and the need to fight violent extremists. "If we do not stop them at the monasteries," explained Ambassador Rasool during his talk, "they will make their way to the mosques."
Meanwhile, on the Internet, tens of thousands of angry people – led by the likes of Rev. Franklin Graham – didn't like the idea of Muslims praying in the "place where we bury our presidents, where we bury our national heroes" and organized a vigorous campaign on social media to protest the event – but only one visible protester came, and she didn't elicit much of a reaction in the wake of such overwhelming interfaith harmony. "Let us stretch our hearts and let us seek to deepen mercy," declared Rev. Campbell in front of the worshippers, "for we worship the same God."
5. A pair of viral videos show that Muslims can be happy (United Kingdom/United States)
What started as an innocent video among friends just looking to express themselves became a viral trend that crossed oceans. "Somewhere in America" featured a diverse set of Muslim women wearing a variety of hijabs and walking, dancing, or skateboarding. It was a "lighthearted, tongue-in-cheek kind of thing," says Abbas Rattani of the online listserv Mipsterz, which sparked a lot of serious conversation about Muslim cultures in the West. Soon after, the baton crossed the Atlantic to a group of British Muslims from a group called The Honesty Policy who wanted to use the medium of Muslims dancing in a music video (set to Pharell's "Happy") to "spread positivity and a bit of empowerment along the way."
Like the Mipsterz video before it, the "Happy" video created quite a bit of debate among Muslims, but reception among wider audiences – who saw the clip two million times – was positive. British Muslim scholar Abdul Hakim Murad appeared in the video (which spawned Chicago, Boston, and Washington, DC versions) and defended his participation. "No one," he explained, "will produce a Sharia argument against jumping for joy!"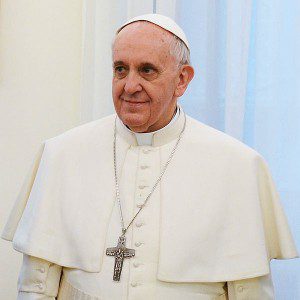 6. Pope Francis builds new bridges with Muslims (Italy)
In 2014, Pope Francis didn't just capture the hearts and minds of Catholics around the world, he did the same with thousands of Muslims as well, many of whom professed to have a pope-crush on the Papal leader. From declaring after a three-day trip to Turkey that the Quran was "prophetic book" to meeting with the Grand Mufti of Jerusalem in which he called upon Muslims to "confront common challenges," to praying in Istanbul's historic Blue Mosque, Pope Francis has made overtures and offered gentle advice to the Muslim world in ways unmatched by his predecessors.
Prior to the Pope's carefully choreographed and much-watched trip to the Holy Land in May, John Esposito, director of the Prince Alwaleed bin Talal Center for Muslim-Christian Understand at Georgetown University said, "The church's relationship to Muslims took a blow under Pope Benedict XVI. It's time to see what Francis can pull off." The Pope didn't disappoint.
In addition to visiting Muslim holy sites during his Jerusalem visit, Pope Francis made other meaningful overtures to the Muslim world: Washing the foot of a disabled 75-year-old Muslim man during a pre-Easter ritual as well as releasing a personal Ramadan greeting. During a year that saw the rise of ISIS and the terrible persecution of Iraqi Christians, Pope Francis continued to reach out in a loving, yet firm way — most recently challenging Muslim religious leaders to "unanimously" condemn the persecution of Christians in the Middle East as well as killing in the name of God while calling on Muslims to present a "more authentic image of Islam."
7. A Muslim superhero joins the Marvel family (United States)
It was a daring choice for Marvel – to take the 30-year old Ms. Marvel franchise and put it in the hands of a Pakistani-American Muslim teenager from New Jersey. Created by Marvel writer Sana Amanat and written by novelist G. Willow Wilson, the new Ms. Marvel struggles with both her new superpowers (shape shifting abilities) as well as conflict within the home. "It was really important for me to portray Kamala as someone who is struggling with her faith," explained Wilson. Amanat says the character is meant to appeal to all who face identity crises. "It's a struggle we've all faced in one form or another, and isn't just particular to Kamala because she's Muslim. Her religion is just one aspect of the many ways she defines herself."
Comic aficionados have taken kindly to the new character, calling the character the heir to the Peter Parker mantle and making Ms. Marvel Volume 1: No Normal the best-selling graphic novel of October 2014 and reaching #2 on the New York Times bestseller list in its category by November. And Muslims in particular have found much to love in the character as well. "She's going to be a window into the American Muslim experience," says Muslimah Media Watch founder Fatemeh Fakhraie. "She normalizes the idea of the American experience as Muslim."
8. Zaytuna College graduates its first class (United States)
Zaytuna College, the first Muslim college in the United States, graduated its first class in 2014, with nine students accepting diplomas. Founded in 2008 by Hamza Yusuf, Zaid Shakir and Hatem Bazian, Zaytuna College was established to meld liberal arts and humanities with an Islamic education curriculum. According to the college's literature, it was conceived to establish centers of Islamic learning for Muslim-Americans in the West to properly interpret Islamic scripture in the cultural context of living in the U.S.
The road to the first graduating class began in 1996 when the Zaytuna Institute was founded in California by Yusuf and Hesham Alalusi. It quickly gained an international reputation for Islamic educational and intellectual learning amongst Western Muslims. In 2004, the Institute launched a pilot seminary program to train religious leaders adept in navigating the cultural landscape of the West, and from there the Board of Directors led the charge to establish the first-ever accredited Islamic institute of higher learning in the United States. Now, 18 years after it first started as an Institute, Zaytuna College has sent nine graduates out into the world armed with the Islamic knowledge ensconced with an understanding of Western cultural traditions.
9. Muslims tackle racism from within (United States)
With touchstones such as Ferguson, 2014 has been a year of heightened attention to lingering issues of racism within society, and Muslims have increasingly been part of the dialogue. And while racial divides have long plagued Muslim communities in the West (witness, for example, the proliferation of Muslim-owned liquor stores in African-American neighborhoods), anti-racism activism within Muslim communities reached a tipping point with the #DropTheAWord and #BeingBlackAndMuslim hashtag campaigns launched by the Muslim Anti-Racism Collaborative.
The #DropTheAWord campaign in particular highlighted a particularly nasty discourse among some Muslims of Arab backgrounds where the use of the word "abeed" (meaning "slave") was used as a derogatory label for people of African descent and Black Muslims in particular. "For Muslims to be engaging in anti-black racism is unacceptable given the main thread that connects us: a religion that is explicitly against racism," says Muslim ARC member Namira Islam. The group has moved beyond hashtag campaigns to address intra-Muslim racism at the 2014 ISNA convention in Detroit and organize real-world efforts that mobilize Muslims and others to get involved in anti-racism efforts in communities across the US.
10. Football player Husain Abdullah offers a prayer during a game (United States)
In 2012 NFL players and brothers Hamza and Husain Abdullah left their teams and football for a season so they could take a month to perform the Hajj pilgrimage with no guarantee they'd get signed again the next year. Sure enough, when they returned for the 2013 season, Hamza didn't get signed while Husain was signed by the Kansas City Chiefs. And on a Monday night football game against the New England Patriots in September, after his pick 6 gave the Chiefs a 41-7 lead, Husain prostrated in sajdah on the ground in thanks, something he had foretold to the Kansas City Star: "If I get a pick, I'm going to prostrate before God in the end zone." He was immediately given a 15-yard unsportsmanlike penalty for delay of game. (Later, NFL spokesman Michael Signora said that the "officiating mechanic in this situation is not to flag a player who goes to the ground as part of religious expression, and as a result there should have been no penalty on the play.")
A Muslim football player prostrated in thanks in the end zone and was penalized. Tim Tebow, and many before him have thanked God on the playing field in a number of ways with no penalty. Many Muslim football fans were upset at the penalty, but ultimately Husain didn't care. He just wanted to give thanks to God, no matter what the outcome. And so he did.