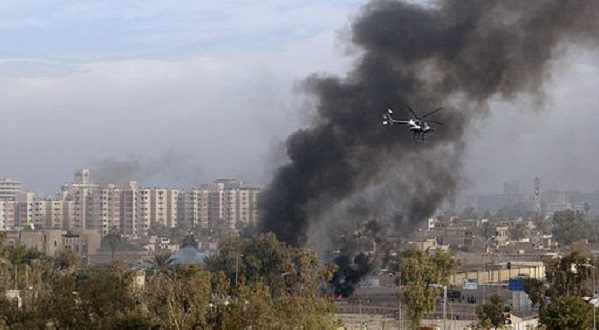 This is day 28 of the #30Days30Writers 2016 Ramadan series.
By Dilshad D. Ali
How many of us were taught as children and adults that upon the start of Ramadan, shaytaan (the devil) is chained up, allowing us to be free of temptations and focus even more so bettering ourselves, increasing our ibadat (worship) and elevating our God-consciousness? We look to this holy month as a time when the horrors and difficulties of the world should stop, or at least show down, and there should be a quietness, a blanket of peace that should envelope the Muslim world.
Well, with my naïve, Pollyanna outlook, that's the expectation I've hopefully harbored, though the reality of life is something altogether
The last week has shown us three extreme acts of violence, with Daesh or ISIS claiming them – the bombing at Ataturk International Airport in Istanbul, the vicious, hacking murder of 20 people at a restaurant in Dhaka, Bangladesh and just now a bombing in Baghdad killing 125 Ramadan shoppers (including scores of children) and injuring 150, according to most recent reports.
On Friday, the eve of the 27th fast of Ramadan, which is believed by many to possibly be Laylatul Qadr, or one of the holiest nights for Muslims when the Quran was revealed to the Prophet Muhammad (saw), 20 hostages, most of them foreign, were brutally killed in an attack. Two police officers died and 30 were injured. Bangladeshi commando officers rescued 13 other people and killed six gunmen after a 12-hour siege.
The dead included Italians, Japanese, U.S. and Indian citizens, some Muslim, others not. This brutal attack was also claimed by ISIS.
I think many of us are thinking the same, simplistic thought: How can terrorists who claim to be Muslim engage in such acts of death and violence? And in Ramadan, at that? Patheos Muslim blogger Hind Makki pretty much summed it up for me with this tweet:
Folks surprised that ISIS attacks a Muslim country in Ramadan are the ones refusing to listen when we say ISIS is antithetical to Islam.

— Hind Makki (@HindMakki) June 28, 2016
Many articles have asked – where is the international outrage for these horrible attacks and bombings, like there was for Brussels and Paris? Where was the Facebook plug-in to change your profile picture to show solidarity with Turkey, Dhaka or even now Baghdad?
As written in this article in The National:
There was no call for world leaders to fly to Istanbul to stand in unity with the Turkish people, and it is doubtful that there will be. Turkey has been a member of the Council of Europe since 1949, an associate member of the European Union since 1963, and a candidate country for full membership for almost 20 years. But though dozens were killed in this brutal attack, not even European allies descended upon Istanbul to make a statement in the face of this brutality.

True enough, a #PrayForTurkey hashtag flickered into life and gained some traction, but the response was more muted than those that marked similar events in Europe.

… Questions about the roots of ISIL ideology in Islamic teachings and suspicions that ISIL is Islamic would have been asked. But when terrorists attack a predominantly Muslim city, the response is rather different.

Turkish officials have declared that ISIL carried out the attack, which means an extremist group targeted Muslims during the month of Ramadan, one of the most sacred periods in the Islamic calendar.

The bitter irony is – it's not the first time extremist Islamist terrorists have attacked Muslims.

ISIL makes waves any time it kills western non-Muslims – but their targets, by far, are other Muslims. The destruction they have wrought on Muslim communities worldwide far exceeds that which they visit upon non-Muslim communities; Islamic religious authorities have condemned them and the ideology they espouse.
Even within our own American Muslim community and leadership, making its way to the end of Ramadan, spent with the highs and lows of worship, community, love and God-focus while witnessing these horrors unfold – we are left wondering, what should we do? Write another open letter of condemnation of ISIS and all the hate and anti-faith, anti-religion, anti-humanity that it stands for? Issue statements of support for the victims in Istanbul, Dhaka and Baghdad (that is already happening)?
What?
On American soil, there continues to be documented hate crimes and target attacks against Muslims and mosques, with many Muslims warning each other via Facebook updates and Twitter to be vigilant and safe at the nightly tarawih prayers or upcoming Eid prayers.
And let's not forget countless other attacks targeting Muslims in this holy month, as CAIR-Chicago Director Ahmed Rehab pointed out in this Facebook status update:
The forgotten ones…

The day before the Istanbul airport attacks in which 44 people were killed, 7 attacks ripped through Yemen claiming 50 innocent lives. But that barely counted for most of us – let alone the media – not then, not now.

In the mere 5 days since the Istanbul attack, a terrorist attack has killed over 40 young men in Afghanistan – police cadets hoping to one day step up to secure their country's streets.

15 people were killed in an attack against a mosque in Cameroon, that's right, a mosque.

18 people were killed in Somalia. And just today 20 foreigners were killed in Bangladesh after a hostage situation.

ISIS has struck in Syria and Iraq over a dozen times in the past 5 days, ambushing innocent civilians, plus executions of captives trying to escape.

In that time, Assad terrorist networks claimed 50 civilian lives in one incident, targeted from the sky. To add to the daily horrendous terrorist attacks the people of that country suffer in relative silence whether from Assad, Putin or ISIS.

In the past 5 days since Istanbul, ISIS claimed innocent lives in incidents in Saudi, Kuwait, and Egypt.

We are not even talking about the many other attacks older than 5 days that have ripped through these countries – or Pakistan, Nigeria, and elsewhere. …
I've no answers to give, no words of comfort immense enough to sooth the torn and ragged edges of our souls. My mind cannot even wrap itself around the perverse ideology and actions of a terrible group wreaking violence, destruction and death on Muslims, those not Muslims, all of humanity – claiming this to come from Islam. All during Ramadan.
My Islam.
No. Just, no.
Oh Allah, forgive us our mistakes and weaknesses. Show us the way. Answer our prayers. Shower Your infinite mercy upon the world. Enjoin the good and defeat the evil. Ameen.
Dilshad D. Ali is the managing editor of Patheos Muslim, editor-in-chief of Altmuslim, curator of the #30Days30Writers 2016 Ramadan series on Altmuslim and writes her own blog on faith, family and autism at the Muslimah Next Door.