From all of us to all of you, many wishes of joy, peace, and happiness this holiday season. For many Americans and Europeans, the cultural trappings of Christmas make it a default holiday, even those who have long since given up believing in Santa and Christianity and Consumerism and all of the other things that make the holiday so… special. In my family this is a time for togetherness, and that tends to focus on the dining room table. Whether it's for meals, snacks, coffee, cards, or just telling stories, that table is where it all happens. And now, in Bodhgaya with my adoptive family of co-workers – every bit as crazy and fun as the real deal – we're re-creating the Christmas cheer in good Indian style.
I'm sure I'll gain all of the 'holiday weight' that I would have back home, but this time offset by something of a slight tan, as I spend afternoons basking in the 70-degree sun. Nights are cold though, dipping into the 40s. I assure everyone this is like summer in Montana (or parts at least), but in Montana we tend to insulate buildings to hold heat (here they're built to lose it, with large screened windows at the top of most rooms) and hot water is, for most of us, just a turn of the faucet away. When it gets a little colder, the locals here will take to burning piles of cheap, dirty coal and occasional wood, cardboard, and random trash items in their front yards, leading to a thick layer of smog that burns off around noon each day.
But for now the air is pretty clean and it's a joy to be here, taking in my last few days in India, 2014, grateful for it all, including to Andrea, my colleague here, whose idea it was to put our santa hat on some Buddha statues for Christmas cards. (So concept credit goes to her.) Hopefully no one, Buddhist, Christian, Santa-Claustian, or otherwise will find offense at our little bit of religio-cultural syncretism. Feel free to share, alter, re-purpose, etc these as you like.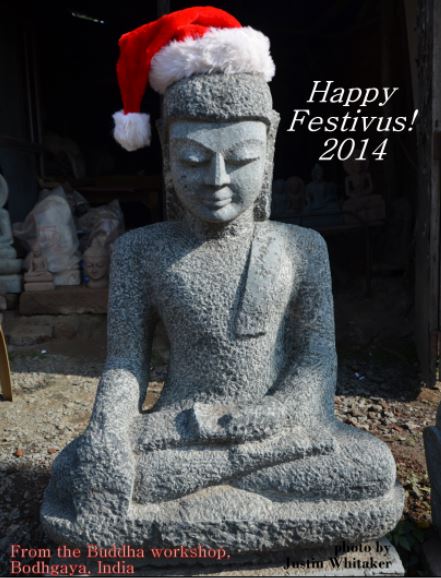 For some great bits around the web to read about Buddhists and and others and Christmas, have a look at: